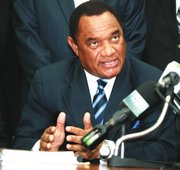 By CELESTE NIXON
Tribune Staff Reporter
cnixon@tribunemedia.net
Prime Minister Perry Christie told an international audience the government will soon engage in discussions to "re-capture" the majority stake in BTC.
During his keynote address at the CANTO Annual Conference and Trade Show in Miami over the weekend, Mr Christie reiterated the governments commitment to regaining the majority shares of and controlling interests in BTC from Cable and Wireless Communications.
He said: "As you know, the majority stake in BTC was sold by my predecessors to Cable and Wireless, and with it, executive control over BTC as well.
"My government, however, was elected with a mandate to take all lawful means to re-capture majority ownership of BTC and I expect that discussions towards that objective will soon begin."
Following the submission of his resignation letter to the House of Assembly on Thursday, former Prime Minister Hubert Ingraham said the government is not serious about its attempt to retake the majority share of the Bahamas Telecommunications Company.
He claimed Prime Minister Perry Christie's pronouncements on the matter so far are just "fluff".
When questioned by the media, Mr Ingraham said that he did not believe Mr Christie's administration was seriously making a bid to do so.
"I don't think so. I think that is all fluff. And I believe that the owners of BTC believe that is all fluff," he said.
Mr Ingraham added that he thought it would be better if the Prime Minister followed through with the FNM's plans to widen the ownership base in BTC by offering nine per cent of its 49 per cent holding to the public.
These shares, Mr Ingraham said, should be sold to the public at the same price that Cable and Wireless Communications was able to purchase its 51 per cent majority stake.
Mr Christie, however said the government will be proceeding with their campaign promise.
Additionally, Mr Christie told attendees in order to increase Caribbean countries GDP and make them competitive with the rest of the world, access to "affordable and reliable" internet is needed.
"It is not because of the lack of skilled labour and talent in the Caribbean but because of the lack of affordable, reliable high speed Internet," said he said. "Broadband is referred to as the Crude Oil of the 21st Century - I am sure that the Caribbean Executives in this room have from time to time imagined how the economies of the region would change if we could only compete with India for Call Centres for Fortune 500 companies creating thousands of jobs in our island nations."