By AVA TURNQUEST
Tribune Staff Reporter
aturnquest@tribunemedia.net
GOVERNMENT ministers characterised the actions of former prime minister of North Abaco MP Hubert Ingraham yesterday as "cowardly" and symptomatic of his contempt for parliamentary procedure and fellow parliamentarians.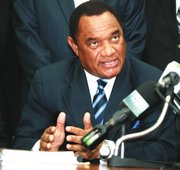 While he noted that he was not surprised by Mr Ingraham's abrupt departure from parliament, Prime Minister Perry Christie said he made a considered effort to allow Mr Ingraham the opportunity to bid farewell to the nation without controversy.
"We made it a point, because it had happened to Mother Pratt, as a government we were not going to involve ourselves in denying or manipulating the process to deny the former prime minister his day in parliament," he said.
"Mr Ingraham has been a major contribution to our country's development and he ought to have ensured that whatever the circumstance, that he would have elected to speak to the people of The Bahamas."
Mr Ingraham walked out of parliament after he learned that his farewell address was not first on the parliamentary agenda according to House rules concerning resigning members.
While he maintained there was no "bad blood" between himself and Mr Ingraham, Mr Christie admitted that the former law partners had not spoken since their debate in the House of Assembly preceding the 2012 general election. He added that no effort was made by Mr Ingraham or his consort to secure the support of the governing side.
"(Mr Ingraham) knows that if he desired, I'm prime minister," he said. "The public knows my disposition about these things. I want order, I want refinement, I do things tastefully and so if he wanted a special occasion, I'm sure he would have known what to do."
During his response yesterday, Minister of Foreign Affairs Fred Mitchell said the turn of events "deeply pained" him as it denied both Mr Ingraham and the Bahamian people an opportunity to show appreciation for services rendered. However, he admitted that he held "no charity" for the former prime minister, whom he described as disrespectful and contemptuous.
"That is why we find ourselves here today in this position where we want to show civility to a man even though he's treated us with contempt and incivility. He believes his position deserves a certain ceremonial status.
"You cannot treat people this side of the House like that and then expect civility or for us to bend the rules to accommodate your way or the highway," said Mr Mitchell.
"This day would have ended or gone differently had matters been conducted in a different manner," Mr Mitchell said.
"There is no doubt that (Mr Ingraham), as the second prime minister of this country, made a contribution to the development of our country."
As he recounted his personal experiences with Mr Ingraham during his tenure as a sitting member of the House of Assembly, Mr Mitchell hit out at the former prime minister's absenteeism during his period as the opposition.
"(Ingraham) would come to this House, mark himself present and as soon as he had been marked present he would get up and leave the precincts of the House and not engage in the debate," he said.
"He did not return as a regular member to engage in the debate until he was re-elected to leader of his party. He treated us with absolute contempt and that contempt continued during the time when he became the prime minister of the country again."
Drawing comparisons between the leadership styles of Mr Ingraham and Mr Christie, Mr Mitchell pointed out that Mr Christie, as did his predecessor Sir Lynden Pindling, stood with his fellow parliamentarians, whether or not his party held the government.
Mr Mitchell praised the prime minister and leader of the Progressive Liberal Party for his egalitarian approach towards politics.
Speaking to the media yesterday, Mr Christie added: "I would have thought this was going to be a day for (Ingraham) to speak triumphantly to his accomplishments and he hasn't and I think that it's a pity to the country."
Mr Christie said that he intends to make a public address on Mr Ingraham's contributions after the succession of a by-election in North Abaco.