PRIME Minister Perry Christie yesterday challenged parliamentarians to revisit the level of funding given for constituency allowances as the current figure hinders true representation.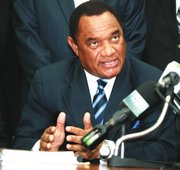 Hosted by the Speaker and staff of the House of Assembly, members and senators engaged in a parliamentary conclave under the theme "Equipping Parliamentarians in a Changing World".
Forum topics included ethical standards for parliamentarians; parliamentary decorum; the role of the presiding officer in the Westminster System; the role of the opposition; and protocol procedures.
Mr Christie noted that the proceedings were both timely and relevant, and commended the fact that both sides of government were present to chart the way forward in strengthening parliamentary performance and conduct.
"We are an island nation and we must be very careful with our understanding of how we should go about causing that island nation to be represented in parliament and knowing what it takes to represent that island nation in parliament.
Mr Christie said: "We have not had the political will to make sensible decisions about how much we are paid and so we have the reality of the public officers who serve under us continuing to move further and further ahead of us in term.
"But it is inexcusable though when we have people who represent island constituencies and some of them incredibly hardship islands.
"The question has to be asked, whether or not we expect them to truly represent their constituencies."