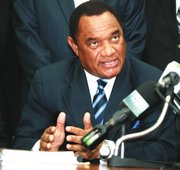 "We are living a lie to just continue to allow the current system we're operating under to exist – because you and I know, and everyone else knows, that a lot of things are happening, where you're taking advantage of all sorts of opportunities if you're the government and it places people at a significant disadvantage and that's not how a democracy functions."
– Prime Minister Perry Christie
By PACO NUNEZ
Tribune News Editor
PRIME Minister Perry Christie made a commendable move last week in calling for an end to "criminal" election practices.
Mr Christie did so while declaring his opposition to the culture of secret campaign contributions which, as everyone knows, has facilitated all manner of shady and undemocratic behaviour over the years.
Of course, one wonders about the timing of all this, coming somewhat conveniently after the last-ever contest between Mr Christie's PLP and the formidable Hubert Ingraham – whose defeat evidently cost a great deal of money.
Be that as it may, progress is progress, and Mr Christie's call for campaign finance reform should be supported by all Bahamians who believe in justice and democracy.
But while greater transparency is indeed a key tool in the fight against criminality, politics is not the only arena of national life in which a criminal culture prevails.
It is therefore only fair to ask Mr Christie if he intends to be a defender of reform in this particular area only, or an apostle of openness in general.
Indeed, whatever else people may say about them, both Mr Christie's predecessors in the top job will be remembered by history as great Bahamian reformers both socially and politically. It may be that the time has come for Mr Christie to consider his own legacy in this regard.
If it turns out that the new Prime Minister is in fact committed to promoting transparency and accountability across the board, there are a few obvious places for him to start.
Freedom of Information
The first easy: the former Free National Movement left a Freedom of Information Act (FOI) on the books, but it has yet to be enacted.
The Bill placed before Parliament was undoubtedly a step in the right direction, but it also left a lot to be desired.
From the point of view of openness and transparency, there are a number of weaknesses in the legislation as it stands – the main one being that the government still retains ultimate control over what information is made public.
This means unscrupulous governments can still insulate themselves from allegations of corruption or incompetence, merely by blocking the public's right to know.
Therefore, Mr Christie should move to enact the FOI immediately, while bringing amendments to allow for an appeals process so those denied access to government documents and records without good cause can take their case to the courts.
The police
Mr Christie should also turn his attention to a worrying trend of secrecy that is developing in the police force, which first surfaced when the public were kept in the dark about a spree of rapes in eastern and western New Providence.
The police were criticised so severely when this came to light that Commissioner Greenslade had to go on TV and defend the force. 
He said the police did not want to risk victims being attacked again as revenge for speaking out, and did not want to jeopardise the investigation.
But angry members of the public were quick to point out that no one asked for specific details – a general warning, without anything implicating a particular victim as the source, would have sufficed.
Far from being deterred by the public outrage, the police have only become more secretive in recent weeks and have now taken to withholding important details about crimes without feeling the need to explain themselves.
It began with the closing of three nightclubs for operating without the proper licences. The police refused to identify these venues.
Then, an armed robbery took place at a store, the name of which was withheld.
This is clearly a deliberate policy decision: when asked why these establishments were not named, a senior officer replied: "Yeah, we don't do that anymore."
Aside from taking away the individual's power to make informed decisions about where it is safe to eat, drink, shop, et cetera, this policy is quite obviously open to manipulation and abuse.
If the official crime record becomes classified, what is to stop someone paying a crooked officer to keep his name, or that of his business, out of the paper?
And even without bribes, don't the police themselves have an interest in making the country seem safer than it really is by making a few details "disappear"?
In this regard, the Prime Minister should be particularly concerned. His party came to power vowing to tackle crime, and commentators will perhaps begin to wonder if the police are keeping quiet of their own volition, or simply following orders.
Free speech
While it is true that Mr Christie may find it difficult to openly influence the police in these matters – officers must be perceived to operate without political interference – he should have no such concern when it comes to his parliamentary colleagues.
In every administration, there are a few MPs or ministers who distinguish themselves as enemies of that cornerstone of a transparent society, free speech.
This time around, Ft Charlotte MP Andre Rollins was the first out the gate.
In his first speech on the floor of the House, Dr Rollins attacked a Tribune editorial, suggesting the newspaper's publisher did not have the right to express certain opinions.
Shocking as it may be that in this day and age, we must still contend with people who do not believe in tolerating opinions they don't agree with, this is a sad reality in our Bahamas and won't go away of its own accord.
Therefore, whenever confronted with such nonsense Mr Christie should put his foot down and bring Dr Rollins and any other like-minded PLPs to heel without hesitation.
After all, there is no point in having campaign finance reform, freedom of information and all the rest of it, if people can be intimidated into silence by those with power.
Transparency can be an effective weapon against crime and corruption, but only if there are free hands to wield it.
Leading by example
Of course, we should keep in mind that Mr Christie's call for greater campaign finance transparency was just that – he made no firm commitment to take action.
In fact, the Prime Minister declared that he positively refuses to foist change on the country, but urged parliamentarians to decide the issue among themselves.
If Mr Christie wants to avoid being accused of spouting a load of calculated hot air, perhaps he should demonstrate his commitment to the cause and lead by way of example.
In doing so, he need go no farther than where he started, by disclosing the PLP's sources of funding for the 2012 election campaign.
It would not need to be a comprehensive list; just say, the identity of the top 10 donors.
Were he to do so, the opposition would either have to match his gambit, or subject themselves to being called the enemies of openness.
Either way, both Mr Christie and the cause of transparency would score a valuable point.
What do you think?
Email your comments and questions to pnunez@tribunemedia.net, or join the conversation at www.tribune242.com/news/opinion/insight/.