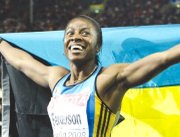 By BRENT STUBBS
Senior Sports Reporter
bstubbs@tribunemedia.net
LONDON, England — Every year as she approaches another Olympic Games, Debbie Ferguson-McKenzie indicates that she's only going to concentrate on her specialty, the women's 200 metres.
So, as she prepares for her fifth appearance in the four-yearly games here this week, questions remain: Is she prepared to abandon the showcase of track and field, the 100 metres and just go for the deuce? Or will the 36-year-old veteran go for another sprint double?
Here's how she answered the one million dollar question.
"I think at this point, I'm still going to do the double since I missed basically almost two months of competing," said Ferguson-McKenzie, who ran in two international meets just before coming to London to get herself back into the competitive mood. "The plan is to do the 100 and 200 here to help me get back into that rhythm. If nothing else, I want to do them to get some training in, while getting in the competition at the same time and to see how far I can take it."
Ferguson-McKenzie, the second oldest member of the team behind 39-year-old Chandra Sturrup, said she's honoured to be selected to another Olympic team.
"Considering this year the way things looked, I'm still thankful to God to be here in London," she said. "This is my fifth Olympics and I'm just proud to be a part of an amazing team. In 1996, I remember being the baby on the team and now in London, I'm one of the oldest. But it's a fun team, a great team, a very experienced team, even though still somewhat relatively young. I'm very excited to be here with them in London."
Although she and Sturrup could be considered "Golden Oldies" from the "Golden Girls" 4 x 100 era, Ferguson-McKenzie said from as far back as she can remember, London was a goal in her sight and she trained for the idea of eventually ascending the medal dais one more time, whether it's for an individual event or as a member of another relay team. But she admitted that she got sidelined with an injury that kept her out of competition and behind schedule in her training for a few months.
"I kind of felt like I let my people down," she said. "But being here, I'm kind of encouraged and I want to help motivate the younger members of the team and try to keep everybody motivated, once they still healthy," she said. "I know what it is when you are at your lowest and you have to rise above that. So I think whatever my mission is for London 2012, if it's not for me personally, then it's for the team and rise above that and go out there and create the environment that we came here for and that is to win some medals."
While Ferguson-McKenzie said she's eager to compete in the sprint double, she's even more ecstatic about being a part of the relay team, especially with double IAAF World Junior sprint champion Anthonique Strachan and the rest of the younger athletes who will be joining her and Sturrup.
"She's a great young lady," said Ferguson-McKenzie, of Strachan, who resembles so much of the passion and fire that she had when she was on the junior circuit. "She is always willing to learn, very friendly, very open and we take pleasure in trying to encourage her to do certain things. If we don't pass that knowledge on to her to make her even bigger and larger in life, then our job would not have been done.
"She's the best junior athlete that we ever had, even better than when I was a junior. She has a junior world record. No other Bahamian has that claim that comes with her double gold medal. I'm very happy to know how, very happy to be here competing with her. I want to encourage her and I hope that she continues to perform and do even better than all of the Golden Girls and Tonique (Williams, the back-to-back IAAF World and Olympic 400 metre champion). Just do it."
No doubt with the pool of athletes here to assemble the relay team, Ferguson-McKenzie said she doesn't see why the Bahamas can't be in a position to regain its rightful place as medal potential with arch-rivals Jamaica and the United States and even Trinidad & Tobago as they try to make it a regional sweep of the top spots at the games.
"We have a very good chance on paper," said Ferguson-McKenzie of the pool that will have to cut down from seven to six before the names are submitted. "Now we have to take that chance off paper and put it into reality. Once we can get the exchanges clicking and get some confidence going, we should be an exciting team to watch at the games."
Right now, the seven women vying for a spot on the relay team are Ferguson-McKenzie, Sturrup, Strachan, Sheniqua 'Q' Ferguson, Christine Amertil, V'Alonee Robinson and Aymara Jones. The coaching staff, headed by Dianne Woodside and including Henry Rolle, who worked with the majority of the women in their quest to qualify for the games, will spend the next few days deciding who the final six will be.