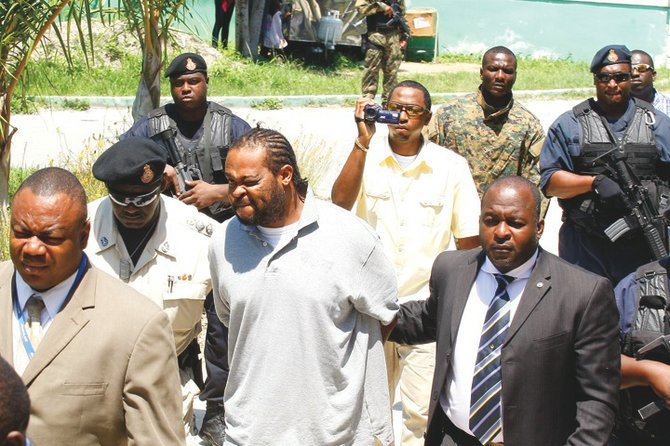 STEPHEN "Die" Stubbs was behind bars last night after he was accused of abetting a murder.
Stubbs, 37, of Ridgeland Park, allegedly aided and abetted the August 21, 2009 murder of Delano Morris. Stubbs was arraigned at the magistrates' court yesterday. He was not required to enter a plea to the charge due to the nature of the offence and was remanded to prison without bail being considered.
Stubbs has the right to apply for bail in the Supreme Court.
Stubbs was escorted into the Nassau Street magistrates' court complex handcuffed and shackled while flanked by police officers.
The area of South Street was blocked off by police and the court entrance filled with armed policeman to ensure that nothing interfered with the arraignment.
His mother, Natalie Stubbs, sobbed after her son entered Court 10 where the arraignment took place. She recited Psalm 23, saying, 'The Lord is my shepherd, Stephen shall not want.'
Defending attorney, Krysta Mason-Smith, complained to the magistrate that her client was denied access to counsel for two hours while being detained.
She added that the charge was just being brought against him but said that would be dealt with at a later date.
Stubbs will return to court on July 4 when he will be presented with a Voluntary Bill of Indictment. The bill will fast-track the case to Supreme Court for trial. Stubbs was remanded to prison until completion of trial.
In a separate case, Dwayne Kelly, 19, of Palm Beach Street stood before Magistrate Guillimina Archer facing a charge of murder.
It is claimed that Kelly killed Philario Simmons, 26, on Friday, May 18.
Simmons, of Podoleo Street, was found in the pond at the rear of the National Insurance Building, Baillou Hill Road with injuries to the upper body.
Kelly was not required to enter a plea to the charge and was remanded to prison until completion of his trial before the Supreme Court.
Though the teenager had an attorney, the magistrate said she would proceed in any case as the attorney had been informed of the proceeding and should have been present.