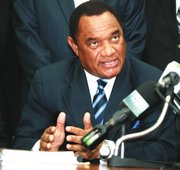 By PAUL G TURNQUEST
Chief Reporter
pturnquest@tribunemedia.net
PRIME Minister Perry Christie said he feels a great sense of personal vindication having not only defeated former Prime Minister Hubert Ingraham but also sending him into retirement following his landslide victory in the May 7 general election.
"That is now history. I have demonstrated that not only could I beat him, but I have beaten him decisively. I have sent him into retirement. I also beat every Cabinet Minister he had who lost their seat in the last general election," Mr Christie said.
The Progressive Liberal Party, led by Mr Christie secured 29 of the 38 seats in the House of Assembly on May 7 - leaving the Free National Movement with only nine seats.
Following his party's defeat, Mr Ingraham shocked his supporters by not only announcing that he would resign as leader of the party, but also his seat in the House of Assembly. That resignation is expected to take place on June 19th.
In his emotional address on May 7, Mr Ingraham thanked all of his party's candidates, members, and supporters throughout the country for their loyalty, support, and kindness towards him and his family.
"To my grandchildren who named me 'Papa', I want to thank them for their encouragement. I thank my children for their love and support. I thank my wife most profusely for standing with me.
"I know somewhere in heaven 'Mama' is smiling on her boy. I promised her I would do the best I could while I was here and I did. From the bottom of my heart I thank all," he said.
Yesterday Prime Minister Christie said that he is still "waiting to see" if Mr Ingraham will retire as promised.
"From the point of view of political action on my part, I will not take any steps as such time that I know for a fact that he has retired. I would imagine that everyone knows who our candidate (for what would then be the vacant North Abaco seat) would be (Ricardo Curry). I would expect that he is doing whatever is necessary now to continue to keep himself in the eyes of the people in that constituency," Mr Christie said.
Moving forward, the Prime Minister said that he is pleased to be leading the country at this time as he feels that the nation requires someone with his "temperament and personality" to draw the levels of investment that are needed "quickly" in the Bahamas.