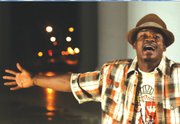 By JEFFARAH GIBSON
Tribune Features Reporter
IN contemporary society, marriage is considered by some an irrelevant institution. Bahamian rapper Papa Smurf is saying otherwise in his new video.
Papa Smurf demonstrated in "Marry Me" that once love is present, marriage will never go out of style. Also featured on the song is Freeport artist Forty Four.
"As long as love is relevant, marriage will always be relevant. The message of this song is very relevant today. There are some people who wish to get married and others who do not want to get married. To each its own and if those individuals are not interested in getting married that is their decision. But marriage will never go away or become irrelevant," he told In Ya Ear.
In the video Papa Smurf pops the question to his longtime girlfriend. In the video he comes to the realisation that he needs to put aside his old ways and become part of something much bigger than himself.
The artist said there are some people struggling with the decision to get married and he encourages them to follow their hearts.
"If you find that special one that you love you need to do what you need to do. You must do what your heart tells you to do. If you love someone, why give that person the opportunity to get away from you?" he said.
Several viewers said they were inspired by the video which was released on May 24. One viewer said: "After my girlfriend saw the video she started pressuring me to marry her."
Another fan said: "The message in the video is timely. There comes a time in your life when you want to settle down and change from your old ways. You are not getting younger and no one is promised tomorrow so do what you need to do to hold onto what you have."
"Marry Me" was originally released by Papa Smurf in 2001. It was one of his biggest songs. The new video features a 2012 remake of the song, changing some of the lyrics and the instrumental.
"When my manager brought the instrumental to me, I heard my old song "Marry Me" in it. I remade that old song. That was my first song ever to be played on 100 Jamz. I made the necessary changes to the song and I got positive reviews from people who heard it, " he said.
Papa Smurf and his team faced several obstacles when it came to the production of the "Marry Me" video.
"After shooting the video sometime last year the footage got lost. Some of it was recovered. There were many more scenes than what we actually showed in the video, but the director did a good job with the footage that was recovered.
"Despite the challenges the video is finally out and that is something that I am happy about because the song and video promote peace, love and something so important as marriage," Papa Smurf said.
"Marry Me" was directed by Shantz Loran of Evolution Film and Media.