By LAMECH JOHNSON
Tribune Staff Reporter
ljohnson@tribunemedia.net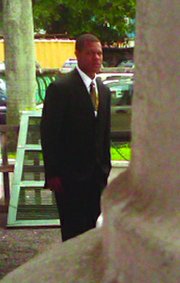 A SUPREME Court jury is expected to deliver a verdict today in the trial of a man accused of murdering Anna Garrison.
After Justice Roy Jones summarises the evidence given throughout the two weeks of trial, he will excuse the jury to decide on whether or not 25-year-old Zyndall McKinney, of Marathon Estates, is guilty of killing Garrison.
Ms Garrison's decomposed body was found wrapped in sheets on Fox Hill Road on July 4, 2009. She went missing that February.
The accused was originally charged along with his former girlfriend, 19-year-old Madison Pugh, of Pennsylvania, USA.
However, Ms Pugh, the daughter of the victim, was acquitted of murder after the jury, which had been excused for two days while attorneys and the judge held private discussions, was directed to deliver a not-guilty verdict.
The discussions in the absence of the jury - between Justice Jones, prosecutor Ambrose Armbrister and defence attorney Elliot Lockhart - were sparked by Mr Lockhart's objection to an alleged DVD recorded interview between a US policeman and Madison Pugh being admitted into evidence.
When the jury returned to court, the judge told them there was insufficient evidence in the case against Ms Pugh and ordered them to find her not guilty.
McKinney, however, was still tried and the prosecution presented an alleged video recorded interview of McKinney confessing to the crime and taking police through the incident. McKinney denies killing Garrison.
Defence attorney Murrio Ducille said his client was innocent of murder when he addressed the jury in his opening address. His client however, opted not to take the witness stand, choosing to rely on the evidence that was given in trial.
If convicted of murder, McKinney could face life in jail.