By KHRISNA VIRGIL
kvirgil@tribunemedia.net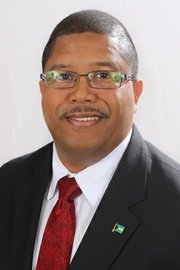 GOVERNMENT members yesterday suggested that FNM Grand Bahama MP Peter Turnquest had first sought a PLP nomination before joining the FNM.
The claims were made as Mr Turnquest took the government to task in the House of Assembly on some of their proposed decisions for the 2012/2013 budget.
Denying that the allegations were true, Mr Turnquest said that if it could be found that he was indeed in talks with the PLP to become one of its candidates, he would resign as a House representative.
He said the PLP could not produce any evidence.
Although Mr Turnquest admitted that a discussion had taken place, he said he had never tried to join the party.
When The Tribune contacted the MP last night he would not comment.
"I have no comment and I will not comment on something irrelevant at this time. I am FNM and I fully support my party," Mr Turnquest said.