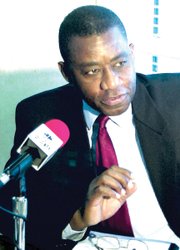 By NEIL HARTNELL
Tribune Business Editor
THE Government's current fiscal position has "hamstrung the country for several years", a key Ministry of Finance consultant warned yesterday, with recovery almost entirely dependent on how the world economy - and key source markets - perform between now and 2015.
James Smith, a former Central Bank governor and ex-minister of state for finance, told Tribune Business that when it came to getting the $550 million fiscal deficit and expanding $4.5 billion national debt back on a sustainable path, much hinged on the Bahamas avoiding any further external shocks "in the next three years".
Whether it can do so is already open to doubt, given the ever-darkening clouds surrounding the Eurozone sovereign debt crisis, and lingering concerns over whether the US can sustain its economic recovery.
Mr Smith warned that the Bahamas and world economies were today facing "more uncertainty than ever before", something that did not bode well for an improvement on the Government's fiscal position.
This is heavily reliant on increasing revenues via Bahamian GDP growth, especially given that the Christie administration appears to have eschewed spending cuts as a means to contain, then reduce, the fiscal deficit.
Mr Smith, though, defended the Government over the 6.6 per cent recurrent spending increase projected for the 2012-2013 Budget, pointing out that the limited post-election timeframe gave it no chance to put expenditure controls in place.
And he hinted that a mid-year Budget would likely "address the real policy issues" required to put the Government's fiscal house in order, setting out a medium and long-term plan for getting the fiscal deficit and national debt back under control.
"Where we are today has actually hamstrung the country for several years," Mr Smith told Tribune Business of the current fiscal position.
He acknowledged, though, that the Government's fiscal problems "reared their head long before" the 2007 US housing crisis and 'credit crunch', the precursor to the 2008-2009 global recession.
Mr Smith pointed to the 2004 hurricane season, and the impact storms Frances and Jeanne had on Grand Bahama, a blow that island's economy had never recovered from. "It touched down in Freeport, and has not been the same since," he added.
Asked by this newspaper as to how quickly the situation could be improved, the former Central Bank governor added: "It has a lot to do with whether anything impactful happens in the next three years. We already have some clouds on the horizon with Europe, and have to keep an eye on the US.
"It's the level of consumer confidence returning to the US, and whether we will be a recipient of a recovery in tourism expenditure coming to us. We've got more uncertainty today than we've ever had before."
Acknowledging the impact from debt servicing (interest) costs standing as the 2012-2013 Budget's largest line item, at $206.833 million, Mr Smith told Tribune Business: "This is a very unwelcome trend, because this is where it starts.
"It means more of the Budget is going to service debt than is being used for more important social things, like law enforcement, education and health.
"The larger it [debt servicing] grows, the more it takes away from other areas, and it needs to be brought under control. It's quite worrisome, and something that we want to be watching very closely."
When the Government's failure to hold recurrent spending at this fiscal year's projected $1.709 billion was pointed out, Mr Smith said this could be "attributed to the timeframe the Government had to deal with the Budget in. For something like expenditure control, they needed more time than was available.
"I'm hoping the interim Budget would begin to address the real policy issues that are needed in this type of environment, giving some indication of where we want to go in the public finances, bringing down the deficit and debt, and the means to do that, and sending a proper signal to the country and public sector."
Mr Smith said numbers and targets were less important when setting out a medium-term debt and deficit reduction strategy. The emphasis, he added, should be on "the direction you want to push in and the policies you want to pursue to bring the growth trajectory back in line".
But, despite the fiscal woes, which will require the Government to borrow more than $1 billion to cover the $504 million and $550 million fiscal deficits incurred in 2011-2012 and 2012-2013, respectively, Mr Smith said the Government need not lower its sights when it came to implementing its agenda - as long as it did so prudently.
"One has to be very pragmatic about this thing," he added. "I doubt very seriously that the ambitions of the Government need change at all. It's really a prudent way of getting there without adversely affecting the country. That would not help anybody, and I think people understand that."