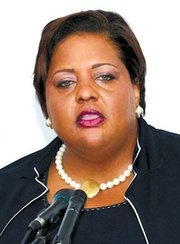 By SANCHESKA BROWN
Tribune Staff Reporter
sbrown@tribunemedia.net
GOVERNMENT ministers carrying weapons could open the door to the Bahamas becoming a "gun-toting" society.
The warning came from the FNM's deputy leader after it was revealed two ministers were personally armed.
Loretta Butler-Turner, who said she had received two death threats herself, branded the government "reckless" and said it was sending the wrong message by allowing ministers to carry guns.
"I would ask this government to reflect on the gravity of what is happening in our country and reconsider that decision because it opens the door to perhaps allowing our country to becoming a gun-toting society and so I oppose this reckless action," she told the House of Assembly yesterday.
"There are psychological classes for every police officer that actually fires a firearm so they go through the reasons for why that firearm was used.
"I do not know what level of training has been done on these people that are toting guns and so we need to actually know what is going on. This is a very, very serious matter," she said.
Her comments came after Minister of State for National Security Keith Bell said he and National Security Minister Dr Bernard Nottage are personally armed.
"Never in the history of the Bahamas has the Prime Minister (and I commend Mr Christie as the Prime Minister I understand he does not have a gun) had to have his National Security Minister armed," said Mrs Butler-Turner.
"But, Mr Speaker, what about our people who do not have detailed body guards, who do not feel safe in their home? Where does that put us?"
Picewell Forbes, South Andros MP, told the House it was not the first time a Minister of National Security had seen fit to arm himself.
"The former minister also had a gun," he said. "The member for St Thomas More would have seen it on him at a funeral at St Agnes Cathedral, over the hill. He came and spoke to it in this honourable place. So do not come in here with that kind of nonsense. The former minister also allegedly carried a gun."
Mrs Butler-Turner brushed off Mr Forbes' remarks and said even though she received two death threats herself she still never carried, and does not wish to carry, a gun.
"There is nowhere in this country I am afraid to go, even as a woman. I have no fear of that. For the record, I do not wish to be armed and I have no body guards. During my tenure as a Minister of State under the previous administration I received two death threats that were investigated," she said.
"I never made them public and never once did I feel like I needed to be armed. So for this to be going on we have to really look at what is going on in this country."