By CELESTE NIXON
Tribune Staff Reporter
cnixon@tribunemedia.net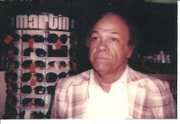 THE LAST founding father of the Progressive Liberal Party William "Bill" Cartwright, pictured, died yesterday.
A native of Long Island, Mr Cartwright was elected to the House for the Cat Island District in 1949 and served in Parliament for seven years.
Along with Sir Henry Taylor and Cyril Stevenson, Mr Cartwright is one of the co-founders of the first national political party in the Bahamas, forming the Progressive Liberal Party (PLP) in 1953.
Describing Mr Cartwright as a man who will be remembered for his great historical contribution to the development of democracy in the Bahamas, Prime Minister Perry Christie, in a special address in the House of Assembly yesterday, said he was a courageous man who advocated civil rights and was a true patriot of his country.
"A realtor and, in later life, a magazine publisher, Mr Cartwright was a man of great faith and humility," said Mr Christie. "He was always at pains to play down the historical role he had played in laying the foundations for party politics in The Bahamas. Although he personally suffered a great deal for that, and for his courageous battle against the racial and economic injustices of his day, he was never one to hold grudges against anyone.
"He was a man of enormous goodwill, and a spirit of reconciliation was deeply embedded in his character."
In recognition of Mr Cartwright's special historical importance, Mr Christie said there will be a state-recognised funeral for him.
The PLP has hailed Mr Cartwright as a "revolutionary, national hero", who has helped shape the modern political history of the Bahamas.
A statement released by the PLP said: "The history of the PLP and its inextricable link to the creation of the modern Bahamas and the continued growth and development of this country are testaments to the relevance and timelessness of the vision of Bill Cartwright. The Bahamas is a better place because of Bill and we owe him a debt of gratitude.
"We express our heartfelt condolences to his family and our thoughts and prayers are with them during this very difficult time."
Also expressing her condolences on behalf of the people of her constituency, Long Island MP Loretta Butler-Turner said Mr Cartwright was a gentle, but determined human being.
"We are where we are today as a nation in terms of our democratic heritage in no small measure because of William Cartwright," said Mrs Butler-Turner.
"He is in his own right a founder of the modern Bahamas. We owe him a deep debt of gratitude."