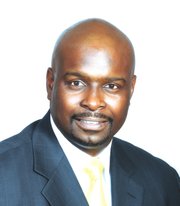 By SANCHESKA BROWN
Tribune Staff Reporter
sbrown@tribunemedia.net
ENVIRONMENT Minister Kenred Dorsett said a major cause of the trash collection delays across New Providence is the fact that only 12 of the 22 government garbage trucks are operational - but another senior official is not so sure.
In a statement issued yesterday, Mr Dorsett said the shortage of trucks combined with the recent bad weather caused challenges to collection exercises around the island.
"One of the challenges is the fact that of the department's fleet of 22 garbage trucks, only 12 are operational. This is one of the issues that I intend to tackle as the minister responsible.
"I will speak further to this point as well as all the other areas of my ministry in my 2012-2013 budget debate contribution," he said.
"However, the non-collection of garbage in certain areas of the island over the past few weeks has been brought to my attention and I would like to inform the general public of the result of my inquiries.
"The Department of Environmental Health has informed me that garbage collection has been delayed due to the increased occurrences of inclement weather in the capital. They are making their best efforts to resolve this backlog by this weekend."
However, director of Environmental Services Melony McKenzie said the shortage of garbage trucks was not the cause of the delay - as they have been working with only 12 trucks for some time.
"We had some challenges with the weather that caused some delays, but we never stopped collecting garbage," she said. "We were operating with 12 trucks and even less for some time now. We can operate off of 12 trucks.
"However, if it rains, the rain slows us down and then we have to double up or triple up in some areas to get caught up," she said.
"We are presently almost caught up with the garbage collection and should be completely caught up by the weekend. In fact, if it rains we will be caught up, if it doesn't rain we will be ahead. We plan on doubling up this weekend and hitting some areas twice."
Ms McKenzie said the areas where the garbage began to pile up were high density areas like Winton, Elizabeth Estates, Stapelton and McKinney and Bethel Avenues.
She said those areas should all be clear by today.