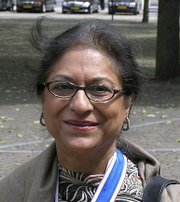 MEMBERS of the Commonwealth Eminent Persons Group has called for immediate Commonwealth action against threats to the life of one of their members— Pakistani lawyer and human rights activist Asma Jahangir.
Last year, the Eminent Persons Group (EPG), which included Jahangir, submitted a report for the reform of the Commonwealth –"A Commonwealth of the People: Time for Urgent Reform." The report was submitted at the EMP meeting in Perth, Australia, in October.
In today's call for action, the EMP of which Sir Ronald Sanders, weekly Tribune columnist is a member, said its members "are extremely troubled by the charges that Dr Jahangir has reliable information that her life is under threat from Pakistan's security establishment.
"Given our knowledge of her and of her highly regarded work, we are confident that her charges would have been made only after the most careful consideration and in light of credible intelligence," the EPG said.
The Group called on the Secretary-General "to request the Government of Pakistan to provide full protection for Dr Jahangir, and to launch an immediate and transparent inquiry into the threats directed at her."
"We are sufficiently alarmed to suggest that you should appoint a 'good offices' representative to be engaged in this matter with the authorities in Pakistan to furnish both you and the Commonwealth Ministerial Action Group (CMAG) with information," the Group said.
Copying their letter to the Chair of CMAG, the EPG members asked that CMAG take appropriate steps "to advise the Government of Pakistan of the deep disquiet that this matter has engendered."
The letter was signed by Tun Abdullah Ahmad Badawi, Dr Emmanuel O Akwetey, Ms Patricia Francis, Mr Samuel Kavuma, the Hon Michael Kirby, Rt Hon Sir Malcolm Rifkind, Sir Ronald Sanders, and Senator Hugh Segal.
Dr Asma Jilani Jahangir is a leading human rights lawyer, and Chair of Pakistan's Human Rights Commission. She is known for her work in Pakistan and internationally to prevent the persecution of religious minorities, women, and exploitation of children. She is the United Nations Special Rapporteur on Freedom of Religion or Belief, at the UN Human Rights Council. Previously, she served as the UN Special Rapporteur on Extrajudicial, Arbitrary and Summary Executions. She is co-author of "Democracy in the Commonwealth" (Commonwealth Policy Studies Unit & ERIS report) and a board member of the International Crisis Group.
Dr Jahangir has gained international recognition for her achievements. In 1995, she received the Martin Ennals Award for Human Rights Defenders as well as the Ramon Magsaysay Award for "greatness of spirit shown in service of the people."