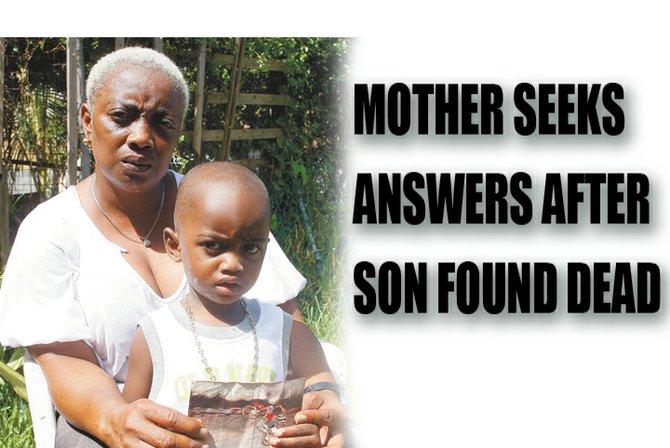 By SANCHESKA BROWN
Tribune Staff Reporter
sbrown@tribunemedia.net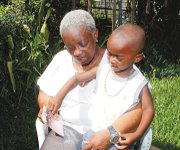 THE MOTHER of the man who died in police custody over the weekend made an emotional plea yesterday for the police to "tell her the truth" about his sudden death.
Joann McKenzie said the nightmare started when neighbourhood boys told her on Thursday that her only son, 22-year-old Tyronne 'TJ' Saunders, had been arrested by police.
"They told me they picked TJ up and took him to the police station. I would be the first to say I know my son is no angel. He is not perfect. He has been up and down with the law, but he was never convicted of a crime. So when I was told he was arrested I just went to the Grove Police Station to find out what he was arrested for. When I got there Thursday night, the officers told me they could not give out that information and I would have to go down to the Central Detective Unit because that is where he was being held," she said.
"I waited until the next day and went to CDU on Friday. The officers there told me they had TJ in custody in connection with a murder. I asked if I could see him, but I was told no because they said he was being interviewed. This was about 10 o'clock that night."
Ms McKenzie on being denied a second time decided to go home and return to CDU the next day. However, moments after getting home police officers arrived to tell her she had to return to CDU with them.
"They said they were looking for me, but I had TJ's two-year-old son with me and had to wait for my boyfriend to get there before I could leave. When I got there the first person I saw was (Coroner) Linda Virgill and I knew something was wrong. They took me upstairs into a room full of officers and they began to tell me why my son was arrested but they were telling me things I already knew. All I wanted to know was why I couldn't see my son," she said.
"Then they told me they found TJ unconscious in a cell. Miss, they called me all the way there to tell me my son was dead. They knew all that time he was dead and didn't say anything. They told me he was unconscious before they were able to question him, but when I was there earlier an officer told me I couldn't see him because he was being questioned, something is not right here. They killed him, they beat my child to death in that cell. I know it."
Ms McKenzie said her son was a healthy boy with no medical problems, except the occasional asthma attack. She said some days she wished that the police would arrest TJ because he would be safer in custody than on the streets, but now she says "that's obviously not the case."
She said: "Some boys came looking for TJ a few nights ago like they wanted to kill him, I prayed the police get him so he would be safe, but they killed him and now they want to sweep it under the rug. He may not have been perfect, but he came from me and I will not rest until I find out what happened to him. They wouldn't even let me see his body or give me his property. If he did something wrong, charge him before the courts. Let them deal with it."
Ms McKenzie said she was told she can view her son's body today. She also said she is seeking legal advice on what to do next.
In a statement police say they have launched an investigation into the death of a man after finding him unresponsive in a cell at CDU on Friday.
"Her Majesty's Coroner Linda P Virgill visited CDU where she observed the body. The body was taken to the hospital and a meeting was held with the mother," the statement read.
It continued: "All contacts relative to this matter are to be relayed to Her Majesty's Coroner Mrs Linda Virgil at the Coroner's Office, Victoria Gardens, Nassau."