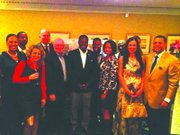 By NEIL HARTNELL
Tribune Business Editor
BAHA Mar is "close" to investing $150 million with Bahamian contractors for its Cable Beach redevelopment, as it prepares to today launch the $2.6 billion project's 300 luxury Residences to high net-worth buyers from across the world in London.
Disclosing to Tribune Business that the developer had created around 1,650 construction jobs for Bahamians to-date, out of the 4,000 promised, Robert Sands, Baha Mar's senior vice-president for government and external affairs, said the Residences would be unveiled at a "major reception" tonight that has attracted 160 "potential buyers".
Emphasising that Baha Mar wanted to sell the 300 high-end pads "as quickly as possible", given the brand and marketing boost this would provide, Mr Sands said these properties carried price points ranging from $1.5 million to $8-$9 million, and would be spread throughout Cable Beach's four new hotels.
To give the Residences launch an extra boost, and matching their high-end profile, Baha Mar is launching them at the world-renowned Harrods department store in London's upscale Knightsbridge district - an area in keeping with the image, and clientele, the developer is seeking to attract.
Apart from senior Baha Mar executives, the London sales push is also being aided by the Government, with both minister of state for investments, Khaalis Rolle, and Bahamas Investment Authority (BIA) director, Joy Jibrilu, in the UK to lend further credibility by affirming the Government's support for the $2.6 billion project.
Describing pre-unveiling interest in the Residences as "excellent", Mr Sands told Tribune Business: "This is the global launch, but the interest in this product has been overwhelming, and we've had a number of positive results and responses for the Residences at this point."
He added that Baha Mar would know "in the next week or two" how successful its sales effort was likely to be, but said: "We intend, and want, to sell the 300 Residences as quickly as possible."
Accomplishing this, which would be no mean feat given the current world economic climate, would be a major feather in Baha Mar's cap, sending another signal to the global tourism market that the project is for real, and potentially convincing other high net worths to look at the development - and the Bahamas in general.
Mr Sands said the Residences would initially be unveiled to the global market via a press conference this morning, followed by a luncheon for dignitaries and diplomats from countries where Baha Mar is engaged in its sales effort.
The final event will be "a major reception for close to 160 potential buyers" at Knightsbridge's Mandarin Oriental Hotel.
And, to ensure its message is lasting, the Baha Mar project is being showcased in the Harrods window on the corner of Brompton and Hans Roads for 20 days between June 10-30, in a bid to attract additional interest and give an idea of the project's scope.
Asked why Baha Mar had chosen London for the Residences launch, Mr Sands told Tribune Business: "What better location is there than to launch in perhaps the world's most international city, a high profile destination? We could not have chosen a better location."
He indicated that Baha Mar was also looking to capitalise on global attention being currently focused on London, given the recent Diamond Jubilee celebrations for Queen Elizabeth II and the upcoming Olympic Games.
Apart from Mr Sands and president Don Robinson, Baha Mar's London team also includes senior vice-president of sales, Rick English; Denise Godreau, its chief marketing officer; Kristin Wells, its head of training; and Ann Williams.
The latter are there to help with Baha Mar's recruiting drive, the developer having yesterday hosted a reception for 70 London-based Bahamian students in a bid to reach out to, and attract, this nation's best and brightest to work for it.
When it came to progress on Baha Mar's construction, Mr Sands said work was currently at 'Level 6' on the casino hotel's superstructure, and is confident it will reach 'Level 10' before Independence Day in July 2012. That is a key milestone for triggering certain conditions and terms in the project's Heads of Agreement.
"We're hitting close to the 1,000 mark for Chinese workers, and close to 1,650 for Bahamian construction jobs," Mr Sands told Tribune Business.
"In total, between Bahamian and external contractors, we've spent in excess of $450 million. We're close to the $150 million mark for Bahamian contractors."
Adding that the construction work was "still on schedule and making good progress", Mr Sands said Baha Mar would turn its attention to the golf course and road corridor link to JFK Drive once the superstructure reached a certain level.