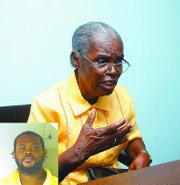 NATALIE Stubbs, mother of imprisoned Stephen "Die" Stubbs, is again proclaiming her son's innocence - this time against alleged reports her son is ordering hits from within Her Majesty's Prison.
Mrs Stubbs said she heard on the radio yesterday morning, a representative from the Ministry of National Security claiming Stubbs was orchestrating murders on the street from behind bars.
"How can you scandalise and say my son in prison and giving orders for people to get killed?" Mrs Stubbs asked. "How my son could be doing it?"
She explained that if the allegations she heard are true, that would only reflect badly on the prison.
"That means to say that the prison is slack," she said.
"I thought better than the National Security man to say something like that. He listened to the lies what the people them telling him.
"My son has never killed nobody. How my son could be in prison and send a message to kill people?"
Mrs Stubbs also hit out at claims her son was ever involved in gang activity and drugs.
"My son never was in no gang - I don't know nothing about my son in a gang," she said. "And they say my son is a drug dealer - they never caught my son with no drugs.
"The policeman tell me one time, say 'Mrs Stubbs, every time I search your son the only thing I find is one little testament Bible in his pocket. That's all I could find on him'."
It was earlier this month that Mr Stubbs appealed to law enforcement officials to release her "innocent son and allow him to live his life in peace" following his arrest.
Stubbs' longtime girlfriend, Jacqueline Miller, also spoke and said Stubbs is not the person police have made him out to be.
"They are just out to get him," she said. "We understand from a police officer that CDU was told to get something on him just to get him off the road. It's like they have society out thinking that he is a bad person, and he is not.
"Stephen might have his ways, everybody has their ways, and everyone might say this or that about him, but he's a nice person."
Stubbs was arrested at the Ridgeland Park home he shares with several relatives on May 31 after police announced he was wanted in connection with a night club shooting on East Bay Street that ultimately killed two men -- one dying at the scene -- and left six others seriously injured.
However, he was not charged in connection with this incident, instead being charged with aiding and abetting the August 21, 2009 murder of Delano Morris.