By CELESTE NIXON
Tribune Staff Reporter
cnixon@tribunemedia.net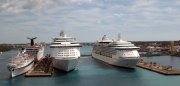 NASSAU Harbour, which cost the former government $44 million to dredge, has not been maintained properly - leading to millions of dollars in lost revenue from cruise ships, Transport and Aviation Minister Glenys Hanna-Martin said.
Speaking in Parliament yesterday, Mrs Hanna-Martin said two cruise ship slips are in urgent need of dredging as they are too shallow to accommodate the bigger vessels.
"For almost two years the port has turned away ships because of the dilemma," she said. "The clearance between the vessels and the sea bed can be less that two feet, this has adversely impacted our revenue generating potential."
Mrs Hanna-Martin said when a cruise line is turned away, the potential loss to the economy from a ship, which on average holds some 2000 passengers, is estimated to be around $162,000 in taxes - which does not include port fees, agent fees and other fees typically associated with cruise ships.
She added that maintenance of the Prince George Dock has also been neglected under the former administration.
Mrs Hanna-Martin said preparation for dredging cruise ship slips 15 and 16 is underway with the actual dredging expected to take a week.
"We will undertake to carry out these works as soon as possible so as to plug up this revenue leak and allow our people to greater access to some of the bounty in the tourism industry and thus enhance the quality of their home lives," she said.
Among the initiatives to be immediately implemented in the Ministry of Transport and Aviation, Mrs Hanna-Martin said, are the final phases of the redevelopment of the Sir Lynden Pindling International Airport, which will be completed by the end of 2013.
She said: "If all goes according to plan and God willing we anticipate the next several months and years to begin to bring a paradigm shift in the aviation sector, in the maritime industry, in public transportation and in our postal services which will enhance our prospects and strengthen our position."
Phase two of the project, which will include the construction of customs and immigration facilities, additional boarding gates and executive security offices, is expected to be completed in October.
Phase three, which is expected to be completed in late 2013, will include the construction of a terminal for non-US international flights and domestic flights.