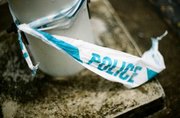 By JEFFARAH GIBSON
Tribune Features Writer
EVERY day, without fail, Bahamian men are paraded in public, doing the Bank Lane "shuffle", as they wait for the justice system to determine their fate.
Mothers, sisters, wives, girlfriends, baby mothers, and other close relatives and friends often line the side walks of Bank Lane, shouting words of encouragement and hope to their family members, suspected criminals. Sometimes they even proclaim the innocence of these men.
"He innocent. I love you and only God can judge you," cried out a female family member.
Although more men than women make their beds at Her Majesty's Prison, women play a role in the escalating problems with crime, according to police, who say women, who do not use their power to direct the men in their lives to abandon criminal activities are just as guilty as those pulling the trigger, dealing drugs, and snatching purses.
Press Liaison Officer Sergeant Chrislyn Skippings told Tribune Woman the messages of hope and encouragement that often come alive during arraignment come a little too late.
Sergeant Skippings admonished Bahamian women for not using their influence to promote positive pursuits. She said this impacts the prevalence of crime in the Bahamas.
"As women we have the power of influence. We can in our own way cause a man to make a good or a bad choice. Women must use that power to help the men in their lives make the right choice to stay away from criminal activities."
Women who are not satisfied with what they have can in some instances push men to get extra cash by committing robberies or becoming a "king pin", just to satisfy their material desires.
"Sometimes women have to settle with what they have. If you are with a man and he does not work, and you see things that you want but you cannot afford it, he may feel pressured to do all that he can to get you what you want, even if it means breaking the law. So we must teach our men to work for the things they want," she told Tribune Woman.
"The crime situation in the Bahamas calls for everyone coming together to fight. Some family members are aware of the activities their loved ones are involved with, so they must come forward."
However, long time resident of the Pinewood community, Erma Saunders, said coming forward with information about family members who are engaged in illegal activities is easier said than done.
"You may have one or two women who may report their boyfriend or family to the police and that is those who do not care. Some people do not report crime because they fear the repercussions from their family. Sometimes their brothers or baby daddies are drug dealers and if you go and talk on them it will cause them their freedom and may cause them their life.
"Most women who find themselves in that situation are not going to go to the police. At the end of the day you do not want to sell out your family. Some people say that's my son, my husband, my boyfriend so I am not going to report him. Even though she knows what he is doing is wrong," she said.
Shanelle Butler, a concerned citizen, said she believes women compromise their duty as Bahamians when they harbour criminals, fail to come forward with information or benefit from crime.
"How could you go to the police if you have a vested interest? Some women are benefiting from the cars, and the money because for them it means their life is easier. They are able to get money anytime they want. Some parents benefit too, so obviously you are not going to the police when you are gaining from the crime," she said.
In other instances, women impact crime because they are at the heart of arguments between men, which sometimes end fatally, said Commissioner of Police Ellison Greenslade last week.
He said arguments over women are a significant factor in the country's steadily-climbing murder rate.
"Many of the murders that we recorded to date are as a result of arguments. I am ashamed to tell you, arguments over women - females, where young men are feuding over females," he said.
Daniel Miller, a resident of Bain and Grants Town said she is a witness to incidents like this.
"I see it all the time happening, it may not always end up fatal, but it is happening. Some women are well aware of the games they play with both men. They lie to one and lie to the other and when it is all said and done, one of the men is laid out in the road and the other one is being escorted by the police. We as women must do much more to stop these kind of things from happening."