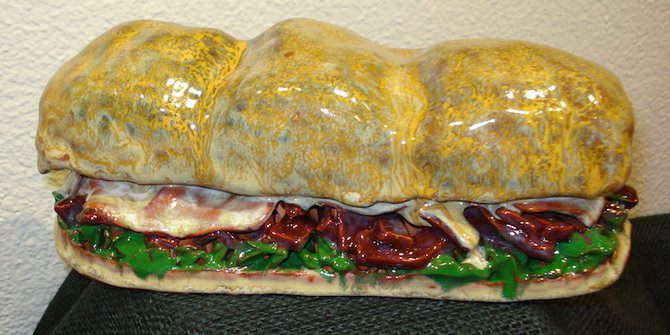 By ALESHA CADET
Tribune Features Reporter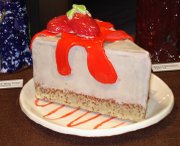 SUMMER students let their creativity run wild while creating delicious art that incoporated food and beverages. The non-edible creations are on display in the latest exhibit at the Central Bank of The Bahamas Art Gallery.
The "Art Is Sweet" project is a continuation of the celebratory "Happy Birthday Kendal" exhibition. The group project was developed to encourage art students to explore abstract design.
Mentored by Bahamian artist Sue Bennett-Williams, over 90 students at the After School Music and Art Classes (ASMAC) spent weeks studying the work of pop artist Wayne Thieband, who became famous for painting cakes and pies.
According to Ms Bennett-Williams, very often, young art students create something and become satisfied with the results after the first attempt. She said they like what they see and do not want to change what they made. This project forced them to look at and re-evaluate what they were doing constantly.
"Every group of students from Monday to Thursday would work on their piece for five minutes and the Friday group worked on theirs for 10 minutes once a week for the entire two terms. That made up the first 24 weeks of our annual program," said Ms Bennett-Williams.
She told Tribune Entertainment the students painted sweet things such as chocolate milk, chocolate strawberries and lollipops. They also painted other objects and different kinds of food such as pizza and spaghetti. She said the concept they were focusing on was showing depth and volume by using light and shadow.
Miss Bennett-Williams said since Bahamian artist Kendal Hanna will be celebrating his 76th birthday this month, the school wanted to honor Mr Major in the exhibit. All the work in this year's art exhibit began last year September. The classes met once a week for an hour and a half after school.
At the "Art is Sweet" exhibit, each student currently has three pieces on display: one framed piece, which is either a painting or some other form of two dimensional work.
"Some of the pieces were done using tempera paint, acrylic paint, oil pastels, colored pencils, graphite, watercolor pencils, and clay," said Ms Bennett-Williams.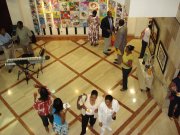 She said each piece is unique in its own way because all of the students made it their duty to put considerable amount of thought into the development of the work.
"They all have sketchbooks where they work out their creative problems before they actually start the final piece. It is the process that is so important to help them utilize and develop their critical thinking skills," said Ms Bennett-Williams.
Since the opening of the exhibit last week, Ms Bennett-Williams said she has been getting excellent feedback from the general public and from parents as well.
"Kendal Hanna came to the opening and has stated that he was quite impressed with the student's work," she said.
The "Art Is Sweet" exhibit runs until June 28.