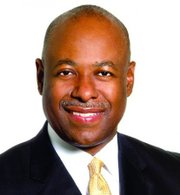 By NATARIO McKENZIE
Tribune Business Reporter
nmckenzie@tribunemedia.net
DESPITE a 16-19 per cent growth in Grand Bahama's air arrivals, the minister of tourism said yesterday that the numbers could be much better and acknowledged the "lots of concern" about the performance of its largest resort, the Grand Lucayan.
Obie Wilchcombe, who has recently returned from a meeting of the Caribbean Tourism Organisation (CTO), told Tribune Business the island's tourism product had suffered due to a lack of marketing and airlift.
Confirming that there was great concern over the fate of the Grand Lucayan, Mr Wilchcombe said: "There's lots of talk about it, lots of concern about it. No hotel in Grand Bahama could open until you create the demand. The demand must be there. What we have to do is ensure that we are creating the demand, first of all, and that is ensuring that the world is aware of Grand Bahama.
"When you analyse what's going on with Grand Bahama, it is simply the fact that no one is marketing Grand Bahama effectively, and Grand Bahama doesn't have the airlift."
Mr Wilchcombe added: "We are going to put some extra dollars in the marketing, and some creativity in the marketing, to ensure that the world knows that there is a place called Grand Bahama. In addition to that, we are going to get more airlift.
"We have already started working on more airlift to get more people to come to the island; it works simultaneously. Right now, we are not doing well in Grand Bahama, albeit the argument is that there has been a steady increase in airlift in terms of arrivals of about 16-19 per cent.
"We love where it is, but I'm not accepting that that's the best we can do. I know we can do much better and we are working on that right now. We have to get more airlift coming from the major cities like New York in the US," Mr Wilchcombe said.
"We're also going to work on getting European flights there, and I'm looking at how we can get more flights out of Latin America and Asia." Mr Wilchcombe added that he intended to make some major changes to the Ministry of Tourism's office in Grand Bahama.