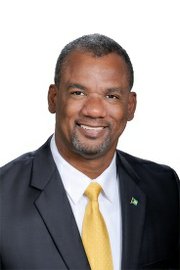 A STANDARDISED national high school diploma will be introduced in the public education system for the first time by June 2016.
Minister of Education, Science and Technology Jerome Fitzgerald said the new national diploma will establish achievement benchmarks in academic and applied sciences, social development and future careers.
"It will encourage students to attain at least the minimum standards for education, provide students with a credential that provides meaningful information to a prospective employer or for college entrance, and recognise students' personal achievements," said Minister Fitzgerald in his contribution to the 2012-2013 Budget Debate.
He explained that some schools presently offer attendance certificates or diplomas that are attached to the individual school, but which do not have enough currency to be used as part of a student's official record of achievement.
"The recipient of the national high school diploma will have to satisfy a set of criteria which will ensure that no student who has not attained a minimum of a ninth grade education will be eligible for the award of the diploma," Mr Fitzgerald said.
Funding has been allocated in the present budget to commence necessary preparations, he said.
The Bahamas General Education Diploma (GED), another initiative by the government, is being introduced for students who were unable to complete high school for various reasons.
It is expected to allow students who have not had an opportunity to complete high school, to complete and receive a GED, equivalent to the national high school diploma.
Consideration will be given to the experiences that the student may have gained through internships and work experience, along with a specific set of criteria, Mr Fitzgerald said.
The Department of Education has been mandated to reopen evening institutes to allow adult students to pursue academic courses which will increase their eligibility for the award of the GED.
Four institutes are expected to open in New Providence before October 2013 and one in each of the Family Islands.