By CELESTE NIXON
Tribune Staff Reporter
cnixon@tribunemedia.net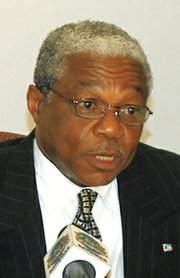 THERE is a "war" going on in the Bahamas said Security Minister Bernard "BJ" Nottage.
The Free National Movement neglected to lay solid foundation to fight the widespread abuse of drugs and alcohol and violence that has put the country in a state of war, Dr Nottage said in his contribution to the budget debate in the House of Assembly yesterday.
While individuals commit the crimes, Dr Nottage said it is the government's responsibility to put the proper measures in place for the prevention of crime, the protection from crime and the punishments for crime and rehabilitation.
He said: "Drug use and abuse destroys the body and the mind and what we see in our Bahamas today is very much the result of our solid foundation not being laid on which to build. There is a segment of our society where the widespread use and abuse of mind altering illicit drugs, alcohol and other substances facilitated by the movement of ill-gotten minds and firearms use is prevalent.
"We often see the consequential bloodshed and death as gang members destroy themselves and others in seeking to maintain and/or establish turf in a war between and among our people, Mr Speaker, there is a war going on in the Bahamas, in New Providence as I speak."
The focal point to building a safer Bahamas must be a commitment to national renovation and renewal, said Dr Nottage.
"The security of the country is a vital pillar on which to build a thriving nation and it is a matter that is a primary importance and this is reflected in the commitment made in our Charter for Governance," he said.
Dr Nottage said $213 million of the current expenditure and 8.6 in capital funding has been allocated in the 2012-2013 budget to national security.
Some of the initiatives the government intends to establish include, school based policing, tourism-based policing, Urban Renewal 2.0, Firearms Department and database, new recruits for the police force, re-equip and reposition the Royal Bahamas Defence Force and establish a Ballistic Identification System.
He added the government is seeking to implement CCTV in the centre of New Providence and crime hot spots.
In order to increase the number of officers policing the streets, Dr Nottage said the government is considering bringing in civilians to facilitate the administrative work in police stations, in addition to bringing back prematurely retired officers.
Describing crime as the most serious challenge facing the Bahamas, Dr Nottage called on the opposition to form an understanding with the Government, that partisan politics must take second place to national development and growth.