By RASHAD ROLLE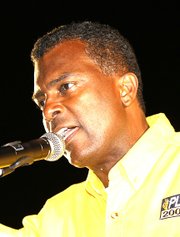 THE new government will do all it can to crack down on poachers from the Dominican Republic, Minister of Foreign Affairs Fred Mitchell said.
Over the years, many Dominican poachers have been caught in Bahamian waters and prosecuted, however local fishermen have lately complained that the problem is getting worse.
Mr Mitchell said curtailing the problem is high on the agenda for the Christie administration.
He said: "The Prime Minister realises the threat fish poaching poses to our country and he wants to get on top of the issue."
Mr Mitchell said he will make a trip to the Dominican Republic "within the next 30 days" to discuss the problem with the Dominican government.
"We are going to make our mission clear to the government of the Dominican Republic," he said.
Last week, opposition leader Dr Hubert Minnis criticised the Christie government for its plan to outsource Royal Bahamas Defence Force officers for street patrols, saying it would cripple border protection efforts.
"You're bringing the Defence Force into the streets, what are you going to replace them with?" Dr Minnis asked.
"You will leave your borders now widely open because you've mobilised your force somewhere else. Then you have problems with illegals, problems with your health system, you have problems with your schools, you have the possibility of diseases being introduced.
"Then problems with poaching - that is a lucrative market. We export products, what's going to happen there?
"The export market would decrease because of the poachers fighting on the high seas, that has always been a threat.
Earlier this year, a Potter's Cay fisherman claimed the Bahamas' crawfish industry is illegally fished 365 days a year by Dominicans claiming to be engineers.
The fisherman, who wished to remain anonymous, said: "Right now, we not only have Bahamians fishing in our waters, we have year-round poachers and mini-ships.
"Bigger boats are out there who have 10-15 Dominicans who say they are engineers but are taking all the crawfish."
According to the fisherman, when the "so-called engineers" use industrial compressors while fishing, "they don't care what they get, big or small. The crawfish is theirs to keep."