By DENISE MAYCOCK
Tribune Freeport Reporter
dmaycock@tribunemedia.net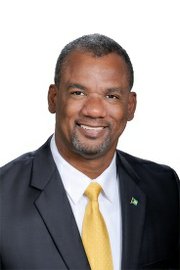 FREEPORT - Minister of Education, Science, and Technology Jerome Fitzgerald visited a number of public schools on Grand Bahama and announced plans to appoint a deputy director of education for the northern Bahamas.
In his first official visit to Grand Bahama, Mr Fitzgerald toured schools in West Grand Bahama, Freeport, and East Grand Bahama.
The minister said the deputy director of education would have complete authority over all the schools in the northern Bahamas, including Grand Bahama.
"It would be the first time that is being done," he said. "It will be a testament to our commitment to Grand Bahama, which plays an important role in the development of the country."
The two schools of particular concern to the minister here on Grand Bahama were the Martin Town and Lewis Yard Primary Schools.
He said he had heard about the institutions and wanted to see the facilities first hand. Both schools have had significant structural challenges.
There are also some environmental concerns at Lewis Yard. Teachers and students have fallen ill on several occasions because of fumes from the nearby industrial plants in the area. The former government had discussed plans to relocate the school.
Minister Fitzgerald said he will request a full briefing on the assessment of those schools so that the government can make a decision on how to move forward.
"Over the years I have heard reports... and I wanted to come and see what was done...and how we make a determination to move forward," he said.
Mr Fitzgerald also expects to meet with the Grand Bahama Port Authority to discuss his concerns regarding the Lewis Yard Primary.
While in Grand Bahama, the Minister also visited the Freeport Primary School, Maurice Moore Primary, Freetown Primary and High Rock Primary.
CAPTIONS
DSC - 0194
A student from Freeport Primary School Jaden Smith is reading a school book for the Minister of Education, Science and Technology Jerome Fitzgerald.
DSC - 0230
The Minister of Education, Science and Technology Jerome Fitzgerald visited the Maurice Moore Primary School and was photographed with one of the students, from left is Senator Julian Russell, Mrs McIntosh, Maurice Moore teacher, Vandria Hepburn, student, Mrs Roberts, Principal Maurice Moore Primary, Jerome Fitzgerald, Minister of Education, Science and Technology, Senator T Tynes.
DSC - 0270
Minister of Education Jerome Fitzgerald meets Miss Martin, Teacher of the Year from Maurice Moore Primary School.
DSC - 0288
Student from Free Town Primary is pictured with the Minister.