By KHRISNA VIRGIL
kvirgil@tribunemedia.net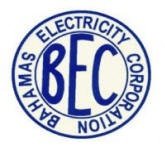 THE Bahamas Electricity Corporation is still investigating the cause of yesterday's island-wide power outage that left thousands of customers without service for several hours, according to a statement released by the company.
Officials said power was fully restored by noon although several persons reported that they still had no electricity until shortly before 2pm.
The statement said: "BEC advises that there was a surge on its system at approximately 8.14am on Monday morning which resulted in the island-wide outage. Crews were immediately dispatched to restore supplies and to investigate the cause of the surge.
"BEC began restoring supplies to its customers in less than half an hour after the initial fault.
"The last remaining customers had their supplies restored at noon on Monday."
The cause of the surge has been isolated to a problem on one of the company's transmission networks, the release said.
BEC apologised for the outage and assured customers that it is taking steps to ensure that such occurrences are, if not eradicated, at least minimised.
Last month, another island-wide power outage took place after two men working near power lines received electric shocks.
The men, who were working for a private company when the accident occurred, were rushed to hospital by ambulance.
They were later released.
A statement released at the time said the malfunction of a protective relay - which would have isolated the fault in the system - caused BEC's entire system to trip.