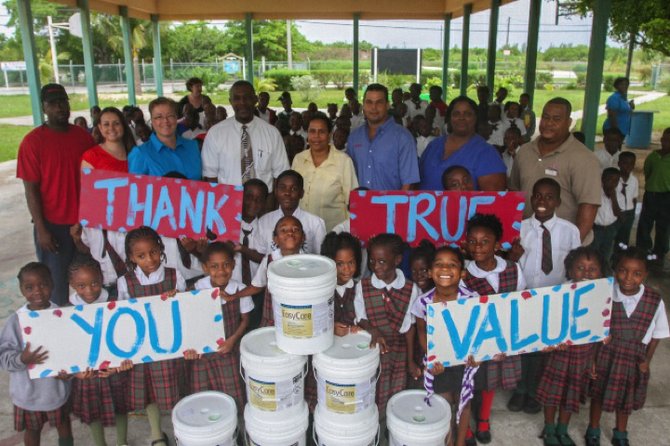 FREEPORT - Even something as simple as a new coat of paint can energise a dreary classroom, inspire teachers and motivate students.
No one knows this better than the staff and students of Lewis Yard Primary School, who were selected as the winners of a 40-gallon paint grant from Kelly's Freeport Ltd and the True Value Foundation's "Painting a Brighter Future" programme.
The grants aim to help renew the classroom atmosphere and set a positive tone for educators to teach and children to learn.
Lewis Yard Primary is one of 112 schools selected for the paint grant, and the only school outside of the United States.
The school plans to use the paint to give their classrooms, staff rooms and bathrooms a much-needed makeover. Parents, student volunteers from the University of Miami and community members will help complete the painting project.
The donation saved the school more than $1,500.
"Through True Value Foundation's Painting a Brighter Future programme, we're able to help Lewis Yard Primary and give back to the community we love to serve," said Lynn Lowe, managing director of Kelly's. "As the economy struggles, children need our help more than ever to receive the education they deserve in well-maintained environments. The paint donation will create an environment that fosters learning, inspires creativity and builds community."
'Painting a Brighter Future' is the signature programme of the True Value Foundation, a philanthropic organisation of True Value retailers worldwide.
Serving as ambassadors for the foundation, True Value retailers introduced the "Painting a Brighter Future" programme to their towns, championing the cause of enhancing the educational environment in their respective communities.
Retailers identified schools in their neighborhoods that met basic qualifications and encouraged the schools to apply for paint grants, which were awarded based on need.
An extensive judging process evaluated several aspects of the school, including student population, involvement with the surrounding community and the reasoning behind the school's request.
Using this set of criteria, an advisory committee of True Value company professionals identified the top applicants as grant winners, each of whom were notified by their local True Value hardware store.