By LAMECH JOHNSON
Tribune Staff Reporter
ljohnson@tribunemedia.net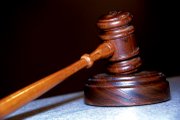 A CONVICTED paedophile left the appellate court yesterday with a reduced sentence after winning his appeal to lower the "harsh" life sentence given to him.
Albert Alexander Whyley, 60, of Freeport, Grand Bahama will now serve 30 years at Her Majesty's Prison for the February 6, 2011 sexual assault of a nine-year-old girl.
The sentence takes affect from the date of his conviction, which was in September last year.
Appellate court Justices Anita Allen, Stanley John and Abdulai Conteh made the ruling yesterday afternoon, following an hour of debate on whether or not Whyley's actions could be deemed the "worst of the worst" to warrant life imprisonment and his condition, paedophilia, which he was diagnosed with after he admitted to having sexual urges about children since his incarceration.
Whyley, a clergyman and former policeman, was convicted of having unlawful sexual intercourse with the minor.
While he had maintained his innocence throughout trial, a probation report compiled after his conviction revealed that the father of 11 children admitted his guilt, expressed remorse for his actions and a desire to apologise to the victim and family for the pain he caused.
He was sentenced to life imprisonment last November by Justice Hartman Longley, who made the sentencing based on the report of a psychiatrist who diagnosed Whyley as a paedophile and a possible threat to children.
In yesterday's proceedings, Whyley's attorney Carslon Shurland, argued that the sentence given to his client was "harsh, excessive and inappropriate in the circumstances" and that Justice Longley erred in principle when imposing the sentence.
He said that his client should if anything, notwithstanding the aggravating circumstances, should have been given a maximum of 14 years in jail, as he was charged under chapter 99, section 10(a) of the Sexual Offences and Domestic Violence Act.
However, the appellate court president, Justice Allen, said the Act has since been repealed and changed and life imprisonment was the next punishment for a repeat offender such as Whyley who had been convicted on the same offence in 1993.
Mr Shurland, however, did not consider his clients' actions the "worst of the worst".
He said: "His situation, it does not call for life imprisonment because it is not the worst of he worst."
Justice John asked him: "Mr Shurland, you don't think an act like that upon a nine-year-old girl will leave scars for life? That in itself is aggravating."
Justice Allen agreed and added: "Not only that. I think the psychiatrist said he was a danger to children."
The attorney admitted that while he accepts the condition of his client, he noted the psychiatrist's own admission of not being familiar with treatment concerning sexual offenders.
The appellate court president said that issue, the psychiatrist's expertise, was not for the court to debate but "what we are considering is, if the life sentence ought to be interfered with."
Mr Shurland pointed out that the judge made his decision after the psychiatrist said there was no treatment in the Bahamas for Whyley's condition,
Justice Allen retorted that the judge gave direction to the convict "as was available."
Mr Shurland maintained that his client's case was not the "worst of the worst" and the court should give consideration that there were likely others out there, conditionally similar to his client, that had yet to appear before the court.
He asked what kind of message would dismissing his appeal send to society concerning future treatment or lack thereof with respect to his client and others suffering from paedophilia.
Justice John replied that "it is going to send a strong message to society that the court is not going to take such actions lightly."
Justice Allen agreed and said that concerning Whyley's crime, "some people would say this is like murdering a young child, because she'll never be the same."
Mr Shurland concluded his arguments by asking the court how do they determine what is the "worst of the worst." He said that his client's life sentenced basically deemed him incapable of ever being capable of making a contribution to society and "worthless."
He maintained that 14 years was sufficient time for a society that has become more aware of these crimes since they became more publicised, to find a "sexual offenders treatment" for persons like his client.
Justice Conteh asked him "why 14 years and not more?".
The attorney replied that "that was the higher limit under the old law".
Responding prosecutor, Sandradee Gardiner, maintained that the punishment given to Whyley was appropriate in the circumstances.
Justice John asked the prosecutor if she agreed that the effect of a life sentenced didn't give an opportunity for rehabilitation and treatment for Whyley to return to society.
She replied: "Treatment does not guarantee that he will not re-offend.
"When one looks at the age of the victim, the appellant being a repeat offender and putting the victim and the court through trial, he shouldn't be given credit for any remorse that was shown afterwards."
She said his admission of guilt and remorse should have come beforehand.
The judges made their ruling and agreed that Whyley deserved a significant term of imprisonment, they ruled that a determined sentence of 30 years was appropriate bearing in mind all of the circumstances.
The appellate court affirmed Justice Longley's direction for Whyley to receive treatment during his incarceration.