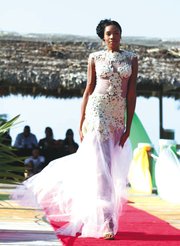 By ALESHA CADET
Tribune Features Reporter
WITH PROM season in full swing, many prom divas will strut down the catwalk in custom made dresses with vibrant colors and flowing silhouettes, according to well known Bahamian fashion designer Apryl Burrows.
She said most of her clients are asking for designs that are of red carpet quality, but not "overly dramatic".
Working on six gowns this prom season, she said the process requires a lot of hand work and can be time consuming. "We are keeping with our Apryl Jasmine aesthetic which is elegant and feminine," she said.
"Because the trend this Spring/Summer is colour, and lots of it, the colors for prom this year are no exception. Vibrant fushia pink, canary yellow, and turquoise, which is always a favorite, are all very popular this year," said the designer.
Ms Burrows has been designing gowns under the label "Apryl Jasmine" for the past 10 years. Her inspiration comes from everyday life: the colours and patterns of nature.
Ms Burrows initially started her fashion career designing gowns for special occasions requiring bridal and evening wear. Over the years she expanded to include styles for pageants, musicians and other public figures.
She said fashion design is her profession and also one of her favorite past times. There is no separation between her work as a designer and her life.
"I love research, so I'm always looking for what's happening next in fashion and how it relates to the past," said Ms Burrows.
Ms Burrows advises prom divas to start early searching for the perfect dress, looking through magazines and browsing the Internet for different styles.
"When the time comes she can show them to the designer so that they get a sense of what she likes. I would also tell her to be open to what the designer suggests; there's a reason why she chose that particular designer and she should consider his/her suggestions," said Apryl.
She said a person in search of a custom made prom dress would also have to choose a design that reflects their personality and not what their friends like.
"Consider your body type and complexion when selecting a color," she said.
There are many young women out there who would rather get their dress custom made opposed to purchasing one from a store. Apryl said these are the girls that want to be unique.
"There's always the fear of others showing up in the same dress and having a gown custom designed alleviates that concern," she said.
"When you have a dress designed and made specifically for you, there is an added quality to the garment that makes it special. If your body type, the one most designers design for, this allows you to get the style and the fit that you desire and that works for you. Having a couture gown means that you get the colour, silhouette and the signature of a specific designer that you like," said Apryl.
When she sees her gowns worn by young ladies, Apryl said it is like watching a caterpillar turn into a butterfly. She said it may be a girl's first formal gown and sometimes first formal event, so it is very special.
"It's also an experience that she will remember for a very long time and I am very proud to be a part of that. These are the women that we will be seeing in a few years looking for wedding dresses and we enjoy knowing that we will be a part of a life-long relationship," said Ms Burrows.