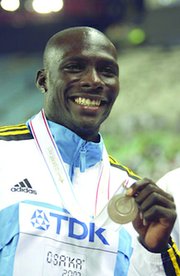 By BRENT STUBBS
Senior Sports Reporter
bstubbs@tribunemedia.net
NOT since he sped to international prominence with his silver medal performance at the IAAF World Championships in 2007 in Osaka, Japan, has sprinter Derrick Atkins been a force to reckon with in the men's 100 meters.
Notwithstanding the fact that he's still the only Bahamian to run under the 10-second barrier, his national record of 9.91 seconds that he ran at the aforementioned championships, Atkins is making a report back five years later and he's the leader of the pack.
"I feel pretty good. I feel like it's finally coming together. The last few years, I went through one constant injury after the other. So I'm just happy that I'm happy and I was able to go out there and run.
"I just want to get through one week at a time, one race after the other and one meet after the next. I just want to go out there and compete and qualify for the team. It's been a long hard journey and it's not close to being over. The key thing is to being healthy," he told The Tribune.
In his comeback this year, Atkins has posted the fastest time so far by a Bahamian of 10.09 in the 100.
Warren Fraser, who is expected to provide the majority of the competition this weekend at the Thomas A Robinson Track and Field Stadium, is next with 10.18. The men's 100 A qualifying standard is 10.24.
Atkins, who turned 28 on January 5, said he's blessed to be the "old guy" even though "I'm not that old" to interact and mingle with the younger guys coming up as they try to get to the next level.
"I just want to go back out there and compete," he said. "My whole goal is to just qualify for the team and run my race. I've been working on it all year. It's been a long, hard journey and it's not even close to being over yet. So I'm just taking it one day at a time and just really being patient and focused, but more importantly, staying healthy."
Having had a chance to represent the Bahamas at other international meets like the Central American and Caribbean Games and the CAC Championships, Atkins will be making his second appearance at the Olympics where he was a semi-finalist in Beijing, China, in 2008.
"I'm going to try to guide them in the right way they should go and give them the mindset that they need to get to the next level," he said. "They have to realise that it's a process.
"Nothing comes overnight. Rome wasn't built in a day. You have to take it one day at a time to get to where you want to go. That's why I've been taking my time in coming back."
As for his expectations, Atkins said there's no priority. "I just want to go out there and compete," he said. "Anytime I step on the track, I'm going to give it 120 million per cent. I know I'm exaggerating the million per cent. I just want to go out there and compete.
"At the end of the day, I don't really care about time or chasing time or chasing money. I'm just going to go out there and compete. May the chips fall where they fall."
Like Atkins, Fraser is taking the same type of notion into the nationals.
Said Fraser: If I can go in there and PR or run close to my PR. I just hope to go out there and execute and let things fall into place after that."
Coming off an impressive collegiate season at Clemson State University where he just missed out on qualifying for the final of the 100 at the NCAA Championships, Fraser said he's looking forward to running against Atkins and the rest of the competitors this weekend.
One of those competitors hoping to take advantage of the elite field of competitors expected home for the Nationals is Lavardo Smith, a defence force officer.
"This was just my third race for the season and this was a quality meet so I think it will help me get ready for the trials," Smith said. "I felt good about my performance.
"I want to thank my bosses, my wife, Rookmon, my coach Ednol (Rolle) and my sponsor Juan Roberts for all coming on board. It's been good so far. We'll see what happens at the trials."
Smith said he just wants to prove to everybody that he can stay home and train and still be as competitive as both the collegiate and elite athletes.