By SANCHESKA BROWN
Tribune Staff Reporter
sbrown@tribunemedia.net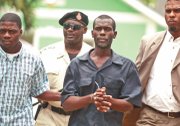 AFTER lying unclaimed in the morgue for more than ten days, the 11 Haitians who tragically lost their lives last Sunday will finally be laid to rest.
The six adults and five children were among a group of 28 passengers on board the 25-foot vessel "Glory Time" which capsized en route to Florida last Sunday.
Although they have not been officially identified The Tribune understands the children were siblings Alonzo Joseph, Jermaine Joseph, and Chrisanta Joseph, along with fellow siblings Evanskie Baptiste and Kendle Baptiste.
They all attended Treasure Cay Primary school where one was in grade one, three were in grade four, and the last in grade five.
Twelve people are still unaccounted for, while five remain in custody.
President and CEO of Rock of Ages Northside Funeral Home Kemel Cox said he with members of the Haitian community decided to "come together and make things happens because it was the right thing to do".
"The Crematorium will provide the complete service for all of the victims. We will provide the caskets and the embalming. We have a local florist who will provide the flowers and a print shop that will do the programmes. We also have a mason who will dig the grave. Everyone is playing a part. This is a time when the community comes together to make things happen," he said.
"We are in the funeral business to serve the community. This is not the time to make money. Money is not everything. There comes a time when disaster happens and people need to come together, well this group of people will make things happen. It is something that needs to be done."
Mr Cox says the 11 people will be buried together in one mass funeral. While the funeral will not be free of charge, it will be significantly reduced.
He said: "The families aren't paying. They can't pay. No one has claimed these people. The Haitian Embassy as well as the consulate and some Haitian pastors will pay the remainder of the cost.
"The average funeral is $5,000. It's eleven people. I can't say what they will pay but it is nowhere near what the cost would have been. This is not a time to worry about cost. They need to be laid to rest."
Mr Cox said while the details are still to be ironed out the funeral is expected to be held this Saturday at Liola Hall on Gladstone Road. They will then be buried in the Southern Cemetery.