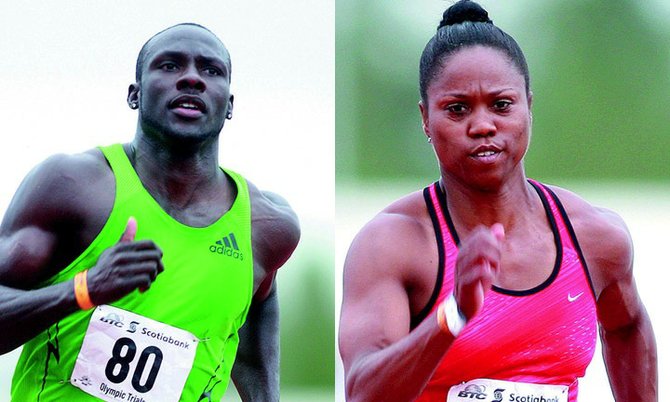 By BRENT STUBBS
Senior Sports Reporter
bstubbs@tribunemedia.net
Back in action after missing last year's event in Grand Bahama, Chandra Sturrup and Derrick Atkins both regained their sprint titles at the Bahamas Association of Athletic Associations (BAAA) Scotiabank National Open Track and Field Championships.
For Sturrup, however, her victory in the women's 100 meters was marred by the absence of her arch-rivals, including defending champion Debbie Ferguson-McKenzie, Sheniqua 'Q' Ferguson, Anthonique Strachan and Nivea Smith.
For medical reasons, the competitors all got exemptions from the BAAA to skip the meet at Thomas A Robinson Track and Field Stadium over the weekend, which served as the final trials for the 2012 Olympic Games.
The athletes all turned in medical forms to the BAAA, citing that they were 'unfit' to compete in the two-day meet. They were also joined by quarter-miler Shaunae Miller, who also didn't compete.
Without any push, the 41-year-old Sturrup breezed to an easy victory in 11.53 seconds. Carmiesha Cox, the 17-year-old rising star, came second in 11.71 and V'Alonee Robinson was a close third in 11.73.
"I don't really look at anyone's age when it comes to competing," Sturrup said. "When I step on the line, I go out there to try to win the race. I'm not concerned about whether they are young or old."
Sturrup admitted that she was disappointed Ferguson-McKenzie wasn't in the line-up.
"We're the two oldest competitors, so it would have made it special for us to be there," said Sturrup, who is nearing the end of her career. "She wasn't prepared to run this time, so I had to go with who's there. I ran better than I expected and I'm happy with what I performed."
As a member of the 'Golden Girls' team that won the gold at the IAAF World Championships in Seville, Spain, in 1999 and the Olympic Games in 2000 in Sydney, Australia, Sturrup said she's looking forward to teaming up with the younger girls on the 4 x 100 relay team once they qualify for the Olympics in London, England, next month.
And with the men's 4 x 100 relay not in the ranking to secure one of the top 16 spots to compete in the Olympics, Atkins has turned his attention to the men's 100. He's slowly working his way back to the form that helped him to earn the silver medal at the 2009 World Championships in Osaka, Japan. In his return to the Nationals, Atkins regained his title in 10.38.
"It wasn't the greatest condition to run in, honestly," Atkins said. "The whole goal was to win the Nationals and to make the team. That is what I did. Right now, I'm just going to try and get in a few more meets and hopefully get ready for the Olympics. I just want to go out there and be competitive and really enjoy the experience."
Atkins, 28, easily won over Trevorvano Mackey (10.55) and Warren Fraser (10.61) as Adrian Griffith was unavailable to defend his title due to having just recently undergone surgery.
Mackey, 21, came back and won the 200 in 20.68 to qualify for the NACAC Under-23 team. Jamial Rolle was second in 20.95 and former quarter-miler Aaron Cleare took third in 21.14.
Missing from the line-up was Michael Mathieu, who has already qualified for the Olympics.
The women's 200 was won by Allison Peter of the US Virgin Islands in 22.89, while Marlena Wesh of the Republic of Haiti was second in 23.40. Cox settled for third in 23.43.
In other events on the track, national record holder Ivanique Kemp took the women's 100 hurdles in 13.48 over Petra McDonald (13.54) and Krystal Bodie (13.62).
The men's 110 hurdles was won by Shamar Sands in 13.62, just off the Olympic B standard of 13.60. Nathan Arnett got second in 13.91 and Dennis Bain was third in 14.17.
Arnett clinched the 400 hurdles victory in 51.33 with Xavier Coakley second in 54.85 and Avery Thompson third in 56.37.
The women's 400 hurdles went to Pedrya Seymour in 1:00.18. Devinn Cartwright crossed the line in second in 1:00.93 and Kryshell Rolle was third in 1:01.62.