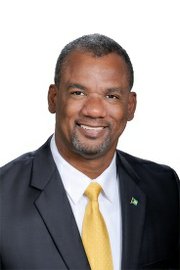 THERE is always something new to learn, The Bahamas' Education Minister told a 2012 graduating class.
Jerome Fitzgerald, Minister of Education, Science and Technology, encouraged the class of Galilee College to continue to develop a culture of learning.
"The fact that you decided to pursue higher learning could be the impetus which causes your children to want to apply themselves to their schoolwork or persuade your siblings to decide to follow in your footsteps. Tell them that education is the pathway to better opportunities in life," he said.
Fitzgerald told the students that The Bahamas requires an educated, skilled and well-trained workforce.
"You have been afforded the opportunity to obtain professional and intellectual development. Use it for the betterment of yourself and your country. Once you have enhanced your knowledge, consider giving back to your country by assisting someone else in realising their dream," he said.
He said the most practical way to do this was by encouraging the individual to obtain their General Equivalency Diploma (GED) or some form of high school equivalency certificate, which will come on stream very soon.
The minister gave the keynote address at the 17th graduation and awards ceremony for Galilee College at Wyndham Nassau Resort. The theme for the event was 'Soaring with Excellence'.
He told the graduates that they had persevered and sacrificed much and encouraged them to pursue even higher degrees in their fields.
"Education is a lifelong process that never ends. There is always something new to be learnt," he said.
He congratulated the students for their achievements and thanked them for making the personal sacrifices to become more equipped for the workforce.
"As you thrive in your careers, our nation will benefit from having another cohort of 50 professionals with tertiary qualifications within its ranks," he said.
Some of the graduates, including those who have pursued the Galilee CPA Review and have attained excellence in the field of accounting were inducted into the Galilee Hall of Excellence. The inductees have passed the Uniform CPA examination.