By BRENT STUBBS
Senior Sports Reporter
bstubbs@tribunemedia.net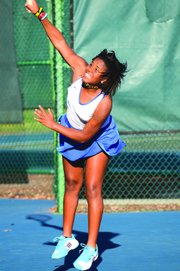 In a gutsy, cramped-up performance, Danielle Thompson avoided another first round exit in the Bahamas Lawn Tennis Association's Junkanoo Bowl International Tennis Federation Junior Circuit Grade Four Tournament at the National Tennis Center yesterday.
On day one of the main draw play in the girls' 18-and-under singles, Thompson emerged as the only Bahamian to survive with a hard fought 6-2, 6-7 (3), 6-4 upset victory over No.8 seed Ashnaa Rao of the US, who is ranked 532 in the world. Thompson is pegged at 1205.
Four Bahamians, who all earned wild card entries, were eliminated.
Dominiqu Mortier lost 7-5, 6-1 to American Courtney Heard, Gabriella Bowe lost 6-3, 6-4 to No.6 seed Ana Paula Neffa De Los Rios, Chelsoi Russell lost 6-2, 6-2 to Gomez Hinojosa of Mexico and Erin Strachan was beaten 6-1, 6-1 by Caroline Turner of the US.
Three Bahamians fell in the first round of the boys 18s, including Shaquille Taylor, who fell victim to top seed Daniel Kerznerman of the US in straight sets, 6-3. 6-1.
Two others in action also got ousted on the first day. Justin Higgs lost 6-3, 7-5 to American Lamar Remy and Kevin Major fell to American Farzin Danny Amiri 6-4, 1-6, 6-2.
Meanwhile in the COTECC girls under-24 division, four Bahamians split their appearances.
Top seed Iesha Shepherd went through with an early 6-0, 6-3 decision over Mandisa Walle and Gabriela Donaldson prevailed with a 6-0, 6-1 triumph over Gabriela Singer.
However, Peyton Henderson lost to American Kianah Motosono and Lauryn Daxon suffered a 6-2, 6-3 lost at the hands of No.2 seed Eva Frazzoni from Bermuda.
And in the boys' 14s, just one of the three Bahamians survived.
Joshua Turnquest pulled through to the second round with his marathon 6-2, 6-7 (6), 7-6 (12) decision over Nagid Walle.
Oneil Mortimer lost 4-6, 7-5, 6-4 to William Way from Bermuda and No.2 seed Blaise Bicknell of Jamaica ousted Danny Johnson 6-2, 6-1.
Top seed Dimitri Bird of Jamaica took care of Nick Lines from Bermuda in identical scores of 6-3, 6-3.
For Danielle Thompson, it was a well deserved victory in the biggest international tournament she gets to play in at home.
"In the first set, I played like I wanted it, but in the second set, I started to cramp and we went to a tie-breaker," she said.
"From the second set to the third set, I was cramping. But the third set, I managed to pull it off. I didn't know how, but I managed to. I guess the hard work really paid off."
So did the home crowd, who cheered for her even when she had to dig down deep to persevere with the injury.
"I like a lot of noise. It really pumps me up, so having them cheer me on let me know that I wasn't alone on the court," she said. "I felt really good with the support. It motivated me to know that I could really do it, especially when I had to go through the pain."
Having felt the agony of defeat in the first round last year, Thompson was determined not to go through that same feeling again this year.
"In the second set, I felt on the floor and I couldn't get up," she said. "I managed to get up with God on my side. I was still cramping in my legs, but I still managed to pull it off. From that point in the second set, I was like 'I don't know if I can do this,' but that was not the first time I cramped up in a match, but I was determined to endure the pain."
And she did.
Now the 17-year-old who trains at a tennis academy in Orlando, Florida, is gearing up for her second round opponent, American Julieta Dalmau, who got by Mexican Sofia Wicker 6-2, 6-4 in her opening match yesterday.
The latter match will not be played until Wednesday, which will give Thompson a day to help recover from her injury.
"Getting through the first round was tough, but I know getting through the second round will be even tougher," she said. "I just hope I stay consistent, stay focused and I don't cramp up again. I pray to God that I be healthy."
While Thompson had to dig deep to prevail, Shepherd had a rather easy time to secure her win. "It was a bit easy in the first set," Shepherd stated. "In the second set, I started to fold up, making too many unforced errors."
Those unforced errors forced Shepherd to rally as she built on her slim 4-3 lead for the win in the second and final set. She was on course to duplicate the quick first set, but leading 4-1, she was broken and Walle held to come within one point. Shepherd returned the favour as she closed out the match.
She will play Motosono in one half of the semifinal with the possibility of facing Donaldson in an historic all-Bahamian final, if she can get past Frazzoni in the semis.
"I just have to stay focused and play my game and not play the other player's game and I can win my match easily," pointed out Shepherd, who has been unbeaten so far this year, although she's coming off a back injury that has kept her out of action for the past few weeks.
Shepherd, 13, admitted that the field is much stronger this year, but once she can work on her backhand game, she should be okay.
The tournament, which got started on Saturday with the qualifying rounds, continues 9am today with a few singles matches, most of which will be the doubles competition.