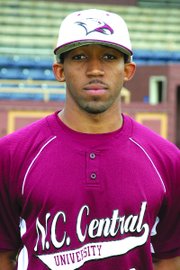 AS an outstanding student athlete, accolades continue to pour in for collegiate baseball standout Etienne Farquharson III.
Farquharson, a senior at North Carolina Central University, was selected by the Mid-Eastern Athletic Conference to receive the Nike Post Graduate Scholarship for his "performance in the classroom and on the diamond."
It is the second such academic honour for Farquharson, who was also named to the Capital One Academic All-District III team by the College Sports Information Directors of America (CoSIDA) sporting a 3.961 grade point average majoring in business.
"Etienne is an extremely bright and talented young man that deserves all the accolades he is receiving," said NCCU head baseball coach Jim Koerner. "I am very proud of his academic accomplishments."

Farquharson ended up hitting .239 with 11 RBI in his final season at NCCU, which included a 3-for-6 effort at-the-plate with a run scored, a stolen base, and an RBI in the Eagles' series sweep over Florida A&M to end the conference slate.
NCCU finished the 2012 regular season 19-32 overall with a 13-10 mark in conference play.
The Nike Post Graduate Scholarship for $5,000 is awarded by the conference to both a male and female student-athlete who has excelled academically and athletically and are in their final season of intercollegiate athletics eligibility and competition under MEAC and NCAA regulations for the sport in which the student-athlete is nominated.
Farquharson graduated last month Summa Cum Laude with his bachelor's degree in business from NCCU. He plans to pursue his masters degree in the fall. After graduating from St Augustine's College in 2007, Farquharson attended Pensacola Junior College where he was a member of the Panhandle Conference Championship team that was ranked as high as number one in the nation. He was also named Academic All-American.
In his first season with the NCCU Eagles, he played in 34 games with 20 starts at catcher. He finished the season second on the roster with a .308 batting average.
The following season, he continued his exceptional performance in the classroom was nominated as a CoSida Academic All-American. He moved to second base where he started 16 of his 28 games and finished the season seventh on the team with a .282 batting average.