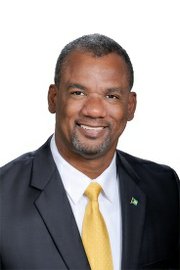 THE government says it is aware of the urgent demand for highly skilled workers in many fields and is committed to fulfilling these needs through the Bahamas Technical and Vocational Institute.
Minister of Education, Science and Technology Jerome Fitzgerald said: "The objective is to stimulate economic growth through anchor projects on New Providence and in the Family Islands and to develop the skills of our people and ultimately, our nation."
Mr Fitzgerald told a BTVI graduating class that education is the key to empowerment and the education system must provide the opportunities and prepare the nation's children with regard to career choices for them to become contributors to the development of society.
The theme for the graduation event was: "Enhancing your career through technical and vocational education and training". The graduates were encouraged to allow their newly acquired skills to place them on a path to greater accomplishments.
"Employ a work ethic for yourselves," said Mr Fitzgerald. "Be fair, true and professional in all of your dealings. Let integrity be your watchword and God your guide. I am certain that the returns will be tremendous and fulfilling."