By ALESHA CADET
Tribune Features Reporter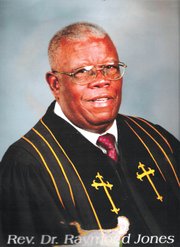 THE NEWS of the passing of well known pastor, Rev Raymond Jones has stunned and touched many lives on the island of Grand Bahama.
Rev Jones who passed away at the age of 87 on Tuesday morning left a lifetime of great memories with friends and loved ones.
Rev Jones suffered a heart attack behind the wheel on Tuesday. According to Grand Bahama Police, Rev Jones was driving on Queens Highway near Hanna Hill around 9:35 am at a slow speed when he strayed off to the side of the street and came to a stop.
He was taken to the Rand Memorial Hospital shortly after, where he was pronounced dead a moment later.
As a former pioneering pastor of the Mt Zion Baptist Church in Grand Bahama, Rev Jones inspired his members from the year 1965 to the time of his passing.
Pastor Lindy H Russell, the current pastor at Mt Zion Baptist Church Grand Bahama told Tribune Religion that during all of his spiritual life, he remembers Rev Jones as a fun and loving individual.
"As you get older, you get to develop a great appreciation for people like him and we all became very fond of him. He was also very well traveled and well experienced," he said.
Pastor Russell said he, as well as the members of the church believe in doing things for people while they are alive, so celebrating the life of Rev Jones was apart of their life occasionally.
"We have had a number of celebrations for his accomplishments while he was alive. We dedicated and renovated the wing of our church, which is our Sunday School area, under the name of his wife, Loretta Jones. He was apart of all these changes as well. We believe in doing things for people while they are alive. These were some of the things we did for him during his retirement," said Pastor Russell.
In addition to being the founding pastor of the Mt Zion Baptist church, Pastor Russell said he can honestly say that no other pastor would have ordained and commissioned more pastors than Rev Jones.
Referring to himself as one of Rev Jones' products, he said people such as Bishop Ricardo Grant of the Universal Household of Faith, as well as Bishop Benjamin Ferguson of Emmanuel Missionary Baptist Church, were also blessed to come under Rev Jones' era.
"On behalf of Mt Zion Baptist, we would like to extend our deepest sympathy and we have to give God thanks for what he has done with him and in him," said Pastor Russell.
Taking the time out to extend his condolences to Rev Jones, Obie Wilchcombe, Grand Bahama Member of Parliament, said it is with a saddened heart and deep regret that he expresses farewell on behalf of the people of West Grand Bahama and Bimini on the passing of a "great provocateur of the word of God and a shepherd of God's flock."
Mr Wilchcombe said Rev Jones was a man that lived a life seeking universal social equity, economic independence. He pursued the cause to populate the country with spirit-filled lives and national love
"The Reverend Dr Raymond Jones was a pilgrim pioneer who for many decades traversed our land boldly and proudly touting the word of God. He fulfilled his vision to construct and to open sanctuaries throughout West Grand Bahama, and he has enriched and deposited a new beginning into the lives of many who were broken and on a downward spiral," said Mr Wilchcombe.
He said his life was committed to mankind and he gave of his own to improve the lives of others. He was revered both nationally and internationally for his unflinching and unending duty to serve.
"The Reverend Raymond Jones was a great Bahamian whose legacy will live in our hearts and in our souls. We join with our lord in saying, well done thou good and faithful servant, well done," said Mr Wilchcombe.