By RENALDO DORSETT
Sports Reporter
rdorsett@tribunemedia.net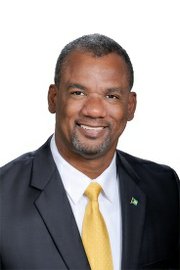 THE Ministry of Education plans to implement a new sector to its Sports Unit geared toward making scholarship opportunities more accessible to a wider cross section of students.
Minister of Education Jerome Fitzgerald, at a reception to honour GSSSA Athletic Scholarship recipients, announced yesterday that the first "Office of Scholarships" will be established in his ministry for the upcoming 2012-13 academic year.
"It will be established with the primary and sole function to search out scholarships around the globe in the fields of academic sports music dance and vocational careers," he said. "Being in the private sector, over the years I was always amazed by the amount of scholarships offered to students and the fact that we had no coordinated effort in the Ministry of Education to find these scholarships and to notify these students in the public school system and also private schools of the various opportunities that exist."
A dozen athletes in three different sporting disciplines, including basketball, track and field and volleyball, were honoured at the inaugural recognition ceremony yesterday.
"During my tenure as minister, I hope that as the years go on we are talking about hundreds if not thousands of scholarships that will be available for our young men and women for them to further their studies. Tens of thousands of scholarships are available for students every year from the NCAA and other organisations, we need to tap into that," Fitzgerald said.
"International athletes usually run into a variety of obstacles which makes their recruiting process more challenging than that of American athletes. We must make sure that we address our curriculum in such a way that these student athletes are being prepared to take the SAT exams and the other requirements that will be necessary for them to get into these institutions, so a part of this office will be making sure that we address these issues that effect so many of our students. For some, it is actually a barrier for them so we have to make sure that as we move forward with education it is relevant and addressing the needs of our student athletes, giving them the best opportunities."
Unit
Evon Wisdom, head of the Sports Unit in the Ministry of Education, said the programme could be the deciding factor for many that may possess the athletic capabilities but remain on the fringe academically.
"We have students that should have been here being honoured as well but academically, it just did not come together for them. We will be implementing a more strict GPA standard for our athletes. We can not go on with people getting about with subpar GPAs. Our compliance officer will be vigilant in monitoring so it will really place the burden on the teachers and the athletes to prepare themselves and make themselves eligible to compete.," he said.
"Within the office we need a specific unit that deals exclusively with student athletes. Many of them need help in developing the academic skills necessary to get to the next level and we are mandated to ensure that we do everything in our power as a ministry to ensure that as many that are able can achieve higher education."