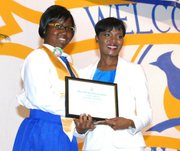 AS HUNDREDS of high school students donned traditional graduation regalia, a select few of Grand Bahama's top achievers were presented with four-year college scholarships courtesy of the Grand Bahama Port Authority.
Under the GBPA's 'Making It Happen' initiative, at the end of each school year, college scholarships are awarded to the top achiever in every high school graduating class on the island.
"The Top Achiever Scholarship award is one of our most notable programmes, created to recognise the academic achievements of our brightest and best high school scholars," said GBPA president Ian Rolle.
Recipients of this year's award included: Trenise Farrington, Alpa Omega Christian School; Terrinique Bullard, Bishop Michael Eldon High School; Calandra Stuart, Eight Mile Rock High School; Lavanda Braynen, Grand Bahama Academy; Shontia Hall, Grand Bahama Catholic High School; Cadeem Musgrove, Jack Hayward High School; Samantha Devan Chee-A-Tow, Lucaya International School; Tania Martinborough, St George's High School; Kayla Lee, St Paul's Methodist School; Racquel Rose, Sunland Baptist Academy; and Angenika Curtis, Tabernacle Baptist Academy.
According to the GBPA's director of community relations, Geneva Rutherford, there are currently more than 100 students on full or partial GBPA scholarship awards.
"Each year hundreds graduate with aspirations of the future. By means of GBPA funded scholarships, many are helped in making these dreams a reality," she said. "The opportunity for them to pursue tertiary level studies is of great importance to us."
Recipients may choose any field of study; however, GBPA encourages pursuing careers that will invigorate and fuel the development of the City of Freeport and Grand Bahama Island. Scholars are also encouraged to begin training at the College of the Bahamas before travelling abroad.
Special recognition was bestowed on Cadeem Musgrove, valedictorian at Jack Hayward Secondary High School. Graduating with distinction, this top achiever also received subject awards for Economics, Keyboarding, Mathematics and Business Studies; along with the most outstanding BGCSE results.
At St George's High School, under the theme, 'Charting a New Course to Success with a World Class Education', Honour Society member Tania Martinborough walked away with the valedictorian award, and was top achiever in History, Music and Religious Studies.
Proving true to her Class Theme - 'Fueling the Fire for Success' - Bishop Michael Eldon's top achiever Terrinique Bullard was also recognised for the most outstanding BGCSE results.
She also captured The Anita Osman "Lux Mentis" Award, Reverend Canon Eric Sam Prize for Religious Studies and academic awards in English Language, Geography and Physics.
Commencement exercises at Eight Mile Rock High School were particularly noteworthy with Prime Minister Perry Christie addressing graduating seniors, including top achiever, Head Girl and valedictorian, Calandra Stuart. She was also the recipient of Most Outstanding awards for Spanish, Mathematics, Health and Family Life, Biology and Religious Studies.
Grand Bahama Academy's top achiever, Lavanda Braynen, credited divine providence for her accomplishments. With an almost 4.0 GPA, during her valedictorian address she stated that trials had made her stronger. "This accomplishment was not easily attained but the tassel was truly worth the hassle," she said.
As faculty, parents and well-wishers gave her a standing ovation, Lavanda proudly accepted a slew of prizes, including the Citizenship Award, Principal's List, and subject awards for Commerce, Office Procedures, Computer Studies, Religious Knowledge, History, Mathematics, Spanish, Language Arts, Accounts, Biology, Family Life and Physical Education.