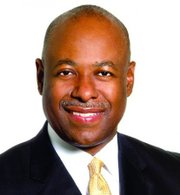 By NATARIO McKENZIE
Tribune Business Reporter
nmckenzie@tribunemedia.net
THE Bahamas' marina industry saw more than 157,000 boats landed last year, according to the Minister of Tourism, who yesterday said projections indicate an 8.8 per cent increase in the recreational boating market over the next several years.
Speaking at a Marina Operators of the Bahamas (MOB) workshop at the British Colonial Hilton, Obie Wilchombe said the Ministry of Tourism was committed to increasing the organisation's marketing budget.
"We welcomed more than 157,000 last year, and the projection is that we will see an 8.8 per cent increase over the next several years," he said.
"We are not linking with the big boating companies, and so we have to bring that component in to what we do now. It's all about getting our message out that it's better in the Bahamas.
"Throughout our country we have marinas, and we have to market our marinas because that's an aspect of tourism. The boating population is wealthy for the most part. We are going to put some more marketing dollars behind the sector. They (MOB) have a $40,000 marketing budget, and we are going to double that, and maybe increase it significantly."
Mr Wilchombe said the Ministry of Tourism's budget this year was around $85 million, a significant amount of which was going to be spent on promotions.
Stuart Bowe, president of the Bahamas Hotel Association, told Tribune Business that the BHA was continuing to work with the MOB to remain competitive in the sector.
"The marina operators of the Bahamas is the third largest segment of tourism in the Bahamas," he said. "We continue to support the MOB with advocacy, legislation, marketing incentives, anything financially from the Bahamas Hotel Association standpoint.
"One of the things we are trying to do with the operators is that they are working on international standards, and we support them. The key is how we remain competitive, and the main cost is petrol. We have worked with the MOB and the Government to assist them in that regard."
Mr Bowe said summer hotel occupancy levels were "building". He added: "For the summer right now we are building. We are slightly behind where we were last year. July is building, August is a little slower than last year, but we expect that with some of the offers and the air credits kicking in at the end of July to hopefully maintain or reach the targets."
"The air credits affect us. We have air credits that will kick in at the end of August. That will assist us from August straight in to the Christmas. We are looking forward to working with all of the partners to ensure that that happens."