By RENALDO DORSETT
Sports Reporter
rdorsett@tribunemedia.net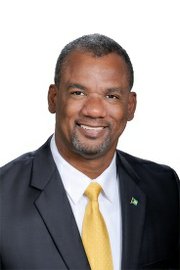 AN HISTORIC group of a dozen GSSSA student athletes became the first to be recognised for their athletic achievements as they prepare for the next step in their scholastic careers.
The Sports Unit in the Department of Education held an "Athletic Scholarship Recognition" ceremony to honour the student athletes who secured approximately $400,000 of scholarship funds to various institutions throughout the US.
Basketball players Prince Braynen, Karon Pratt, Lamont Armaly, William Rigby, Oral Rahming, Jamal Saunders, Deshawn Dean and Trevon Grant, track and field Athletes Avery Thompson, Preston Rolle, Gregaria Higgs and volleyball player Jaleel Dames were among the honourees prepared to enter colleges, high schools and universities this fall on athletic scholarships.
Minster of Education Jerome Fitzgerald has already announced plans for the programme to develop even further as the relationship between the athletic and academic aspects of curriculums continues to expand.
"This being the first event of this nature, I am hoping that we can map out a plan that can include recipients from our government schools in various family islands at our second event. As we move forward with prompting the national development of the Bahamas, we must recognise that we are all responsible for training and motivating our national talent.
"We need to share the responsibility in developing the strength of these students, whether its academic or physical. I look forward to seeing more students as scholarship recipients here next year as we expand our training programmes and improve the sporting facilities in our schools," he said.
"Their achievements are evident of the parents, teachers, sport coaches and everyone who supported them along their scholastic journey. These young people are among the best student athletes the Bahamas has to offer. This is the first of many athletic scholarship luncheons and I'm sure it is an indication that we are developing a greater appreciation for our student athletes than ever before. I want to commend the team at the Sports Unit for the excellent work they have been doing taking the initiative in recognising our government school secondary student athletes. It is very evident that the great extent principals pay to the academic side of learning and developing a person but may not pay attention to those athletic manners in the curriculum, how it changes young people's lives and the opportunity that it provides for young people in going to school. By honouring these student athletes, we express our appreciation for them but also display our respect for their achievement.
Field
The field is led heavily by basketball players, easily the most popular sport on the GSSSA calendar. It includes a talented field - Grant, GSSSA champion, a former Hugh Campbell championship game MVP with the CR Walker Knights, Armaly and Rigby, who won the GSSSA championship this year with the CI Gibson Rattlers and reached the Hugh Campbell final four.
"The average scholarship of each student was around $22,000 a year, so it's not a small amount. In total, our students this year were awarded $400,000 in scholarships. I am proud of all of them for having achieved something on the international scale that many others can only hope to achieve.
"Students, you are in control of your own destiny. If you have an athletic talent to perform at a college level and a very strong desire to compete for another four years, then nothing can get in your way from having an excellent academic career and a rewarding athletic experience.
"The opportunities to grow and mature as individuals is abound and I challenge you to maximise this opportunity. Let the reward you have achieved inspire you to develop a thirst for greater things. Do not allow yourself to be sidetracked by distractions that athletes particularly face. I encourage you to put your best foot forward, stay focused on your goals and to be proud that you represent not only yourselves, your family, your church and by extension, your country."
GSSSA president Alfred Forbes said to the group, which included several of his former students, that the most important part of the achievement would be their ability to give back to the community.
"This honour will not go very far if you do not work as hard now, or even harder to maintain what you have accomplished. Always remember where you came from and the effort it took by so many people to make this day possible for each of you," he said. "Remember that we are only sending you on loan temporarily, we expect to see you back here to contribute like those who came before you."