By LAMECH JOHNSON
Tribune Staff Reporter
ljohnson@tribunemedia.net
DAMIEN Gomez, the PLP's Central and South Eleuthera candidate, believes his opponent Howard Johnson is "missing the point" about his ineligibility to run for Eleuthera on the FNM's ticket.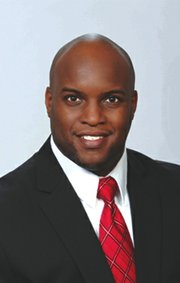 ñ
Yesterday, Mr Gomez responded to both Mr Johnson's and Prime Minister Hubert Ingraham's recent dismissal of claims that Mr Johnson did not meet the criteria to run as a political candidate for the current seat held by the Progressive Liberal Party.
Last Saturday at the Rock Sound International Airport, after greeting party supporters, Mr Johnson, who is on sabbatical from studies in Florida, spoke to the press about his status.
He dismissed the reports about his ineligibility as an election candidate as "noise in the market." Noise, he said, that was started by the PLP.
"I personally don't like to delve into the PLP's business, but those rumours have been orchestrated by the party, I believe."
"I have already passed every test of scrutiny in my party. I don't have to pass the test of scrutiny for the party I am not running for and that's all I have to say about that."
However, Mr Gomez does not believe this is sufficient and says the matter is bigger than the PLP or FNM.
"As a candidate, there are certain criteria in place he must meet according to the constitution and he should not be wasting time to run when he knows he is not qualified to do so."
Mr Gomez referred to article 47(b) of the Constitution, which says that persons eligible for membership in the House of Assembly must be at least 21 years old and ordinarily resident in the country for at least one year immediately before the date of his nomination.
"In this case," he said, "Howard Johnson has admitted living in the United States until December of last year. He said so publicly from the FNM's launch in Grand Bahama and in Nassau."
Mr Johnson lived in Florida where was employed at NOVA Southeastern University as an associate lecturer until his resignation.
Mr Ingraham also spoke to the press about the eligibility claims at the island's third airport. Minutes later after his private plane touched down on the airport's runway, and hours before the official opening of the party's Central and South Eleuthera constituency office, Mr Ingraham supported his party's candidate.
"He's a Bahamian and he lives here. Howard is a resident, although he is also a student in the United States. Howard was born and bred here and that's already two of the qualifications."
However, Mr Gomez maintains that both the prime minister and Howard Johnson are confusing the right to vote with the right to being a candidate.
He ultimately believes that Mr Johnson will lose because, by denying the claims, "he is disfranchising FNM supporters in Central and South Eleuthera."
As to the prime minister, "what he is doing is abusing Howard Johnson, who is spending his own money on a crusade that is going to fail miserably and he knows it".