MONTAGU MP Loretta Butler-Turner said yesterday that although she's unaware of the DNA's new proposal concerning spousal rape, she believes the party is merely "trying to redeem themselves".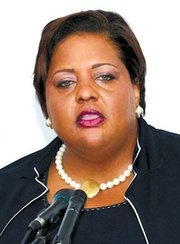 The DNA announced Monday they would amend present laws that prosecute spousal sexual assault as a means of getting higher conviction rates, should they win the general election.
Mt Moriah candidate Wayne Munroe and DNA leader Branville McCartney outlined the party's stance after hosting a focus group on Marital Rape Legislation.
Confirming her knowledge of the focus group's meeting, Ms Butler-Turner recalled that party's original opposition to the Marital Rape Bill, which would have made spousal rape a crime.
"I know that when I presented that Bill, the leader of the DNA party objected to it then (and) he's trying to back pedal now after getting the reactions from the general public," she said. "It doesn't matter what they say they're going to do. One of the things that I've determined, in my mind, is that they truly are very archaic in their thinking - the leader in particular.
"I don't think that anything the DNA does at this point is going to redeem their position. I have not seen what their proposal is and I don't wish to carry this on in the newspapers, but I mean you look at the makeup of their party, one of the biggest opponents and the loudest voices when we presented that was also Rodney Moncur, Wayne Munroe and those. They are a party of persons who do not believe that women have the right to control what happens with their bodies. Plain and simple."
Bain and Grants Town candidate Rodney Moncur has been vocal about his opposition to the Bill as recent as Monday.
On popular social networking site, Facebook, the taxi driver posted: "Marital Rape in The Bahamas is a non-issue. It is the works of the devil! God's holy name we praise."
Mr Moncur said Prime Minister Hubert Ingraham withdrew the Bill after "thousands of descent (sp) Christian women objected to this evil."
"That's the end of that," he said. "Let us not let the devil destroy holy Christian marriage!"
He invited his supporters to view a 1909 advertisement in The Nassau Guardian where "Loretta Butler-Turner's great, great, grandfather put his feet down on a powerful domestic matter in which a female relative had lost her way," Mr Moncur said.
Ms Butler-Turner continued: "I don't think their (the DNA) views have changed and I don't think any amount of pandering to public opinion is one that's going to be accepted because it's very clear from their initial responses and their follow-up responses that they have no presumption whatsoever with regards to protecting the rights of women... I think basically this is politics and these people are trying to redeem themselves."