By BRENT STUBBS
Senior Sports Reporter
bstubbs@tribunemedia.net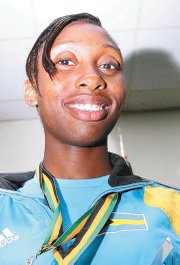 AFTER watching her spectacular season-opening performance over the weekend, coach Henry Rolle says sprinter Anthonique Strachan is definitely ready for a big showing this year.
Strachan, who left St Augustine's College to complete high school and train in Rolle's elite training camp in Auburn, returned home for the Bahamas Association of Athletic Associations (BAAA) Colina Carifta trials.
On Friday night at the Thomas A Robinson Track and Field Stadium, Strachan ran a blistering 11.22 seconds to dip under the qualifying standards for all of the international meets this year, including the A standard for the Olympic Games. She came back on Saturday and completed a sweep of the sprints by taking the 200 in 23.28, which again qualified her for all meets, including turning in a B standard for the Olympics.
"She's doing extremely well. She's completing high school and her training has been going extremely well," Rolle said. "She suffered a hip pointer at the trials in the 200 in the first 50 metres, but we will address that and get her ready for the Olympics. But as indicated in the 100 at home, she's in very good shape. If not for that setback in the 200, I believe this young lady is ready to run extremely fast."
With Strachan expected to lead the Bahamas' 70-member team during the Carifta Games in Hamilton, Bermuda, over the Easter holiday weekend, Rolle said he's confident that if she stays healthy, "the sky is the limit."
But he noted that after the event, Strachan will focus her attention on the IAAF World Junior Championships that is scheduled for July in Barcelona, Spain, before she heads to the Olympics in August.
For Strachan, who made her first major international meet as a member of the team that competed at the IAAF World Championships in Daegu, South Korea, the performance was just what she needed, considering that it was her season opener.
"The times were satisfying. I expected to do better in the 200 but the first 50 metres I got a little twit in my hip, so I couldn't move as planned," she said.
Strachan, however, said she was just elated to be back home and running in front of the crowd again.
"The crowd was there and the competition was still there, so everything went just as it did as if it was a regular meet," she said. "I was just glad that I performed the way I did."
Having passed her test, Strachan said she's now prepared to go out and represent the Bahamas to the best of her ability during the series of international meets, starting with the Carifta Games next month.
"This upcoming season, I'm expecting to run the qualifying times for the Olympics and the World Junior Championships and go there and perform my best," she said.
In the meantime, Strachan said she's enjoying her new environment, teaming with such elite athletes as Jamaica's Kerron Stewart and Bahamians Leevan 'Superman' Sands, Sheniqua 'Q' Ferguson and Nivea Smith.
"They have all been helping me out," she said. "Coach Henry Rolle has done a good job in getting me ready so far. Once I do what I have to do, I know that I will have a great season."
So far, she's gotten off to a great start.