By ALESHA CADET
Tribune Features Reporter
INSPIRED by the beauty of the beaches surrounding the islands of the Bahamas, jewelry and accessory designer MoNique Whyms calls her collection "A Piece of Paradise."
Speaking to Tribune Entertainment, Ms Whyms said it has been ten years since she decided to create and start her business, The Pink Sand Jewelry Collection.
It was back in primary school days when Ms Whyms discovered an enjoyment for working with her hands. The birth of the pink sand jewelry did not come until many years later, in 2002, when Ms Whyms was enduring hardship as a single mother.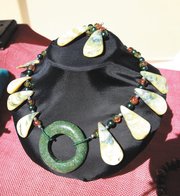 "I prayed and asked the lord to give me something that I could do to take care of my sons, and he took me into a vision and showed me how to make a bracelet by simply using wire and beads. It was not until about two weeks later that the lord took me into another vision where he showed me step by step how to design and create jewelry from sand giving me the formula I should use," said Ms Whyms.
Consistently sticking by her slogan, "If you can't walk in the sand, you might as well wear the sand," she said the collection has been a success and her jewelry pieces are being worn by persons all over the world.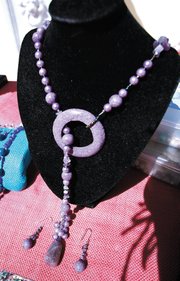 While working at the Sandals Resort and RIU Hotel in Nassau, Ms Whyms said she shared her creative jewels with tourists from Canada, India, Ohio, Jamaica, Florida, Mississippi, Chicago, England, Switzerland and Dubai. She also showcased her work at various art shows in Florida and Chicago.
"It's not only Bahamians who are mesmerized to know that you can make beautiful work of art from sand, but also with our frequent and new visitors to our shores," she said.
Each piece of jewelry is designed and created using beads that are all hand rolled. She said pendants are handcrafted, individually drilled and enhanced using gemstones, seeds, pods, fish scales, wire and pearls.
Ms Whyms said she finds joy in hand rolling the beads and handcrafting the pendants. However, hoping to cater to the "whole woman", she also dabbles in fashion design, creating clothes, scarves, shoes and slippers.
She also enjoys crocheting, needle work, embroidery and nail technology, where she employs sand in her designs and creations.
Ms Whyms retails her artwork at the Bahamas Authentic Craft Village in the Mall at Marathon.