By SANCHESKA BROWN
Tribune Staff Reporter
sbrown@tribunemedia.net
NATIONAL Security Minister Tommy Turnquest officially launched the government's National Anti Drug Strategy 2012-2016 yesterday, which aims to curb demand and reduce the supply of dangerous drugs.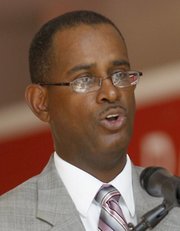 Mr Turnquest said the plan will vigorously deal with the major challenges of drug abuse and illicit trafficking.
He said action will be taken on all fronts, including demand and supply, treatment and rehabilitation, the criminal justice system, law enforcement, legislation, research and public information.
"While drug seizures, particularly of cocaine, have plummeted in the past 10 years, we should not misread these developments. The Bahamas still has a very serious drug problem manifested in the abuse of marijuana, especially in young people, the trafficking in marijuana as well as cocaine and experimentation with the domestic production of marijuana.
"The abuse of prescription drugs is also a matter of concern," Mr Turnquest said.
"Crimes associated with drug abuse and illicit traffic committed by perpetrators engaged in illegal trade as well as persons who commit crimes to support their drug use and addiction are a challenge to the justice system. A number of illegal activities are also associated with the drug trade including illegal immigration, migrant smuggling and trafficking in illegal firearms. The strategy will seek to reverse these negative trends."
According to statistics, on December 21, 2011 there were 1,326 remanded and sentenced persons at Her Majesty's Prison.
Of this number, more than one-third, or 477, were there in connection with drug related crimes including possession of dangerous drugs and possession with the intent to supply.
Mr Turnquest said because of this, the plan also includes the development of a Drug Treatment Court (DTC) intended to address recidivism and reduce crimes committed as a result of drug dependence.
The court will impose sentences intended to treat and rehabilitate persons that commit crimes because of drug dependence.
Under the strategy, the government will also fund academic and specialised training for professionals in various areas of drug control.
Mr Turnquest said: "Grants will also be awarded to NGOs for the implementation of agreed targeted, results-oriented projects. Targeted investments will support youth in areas including education, youth development, youth employment, health and social services. New institutional arrangements have also been put in place and include an Inter-Ministry Group on Drug Control, a Drug Policy Advisory Committee and a Heads of National Security Agencies which will advise the Ministerial Committee.
"The strategy commits the Bahamas to bilateral, regional and international co-operation in drug control and in particular, the implementation of international treaties and agreements on drug control."
The strategy, according to Mr Turnquest, will be "results-based". He said the government intends to closely monitor the progress, so adjustments can be made when necessary.
The Ministry of National Security's National Anti-Drug Secretariat (NADS) will play the lead role in ensuring co-operation among government entities and NGOs.