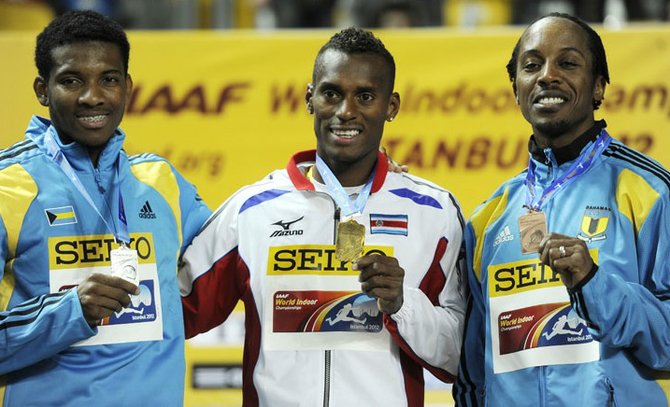 By BRENT STUBBS
Senior Sports Reporter
bstubbs@tribunemedia.net
Demetrius Pinder and Chris 'Fireman' Brown made history when they came across the finish line with the silver and bronze medals respectively in the 400 finals at the IAAF World Indoor Championships in Istanbul, Turkey.
Now the Bahamas Association of Athletic Associations (BAAA) is preparing to honour the two quarter-milers during a reception all set for Saturday night at the new Thomas A Robinson Track and Field Stadium.
While the details are sketchy, in a press release, the BAAA disclosed that a cocktail reception is slated to begin at 6:30pm. Efforts to get more information from the BAAA was unsuccessful.
However, when contacted yesterday, Pinder said he was delighted that he and Brown are going to be recognised for their historic achievement at the championships.
"It's always good to be able to give God thanks for what you have done, but it's also good to know that your country is going to say thanks to you for your efforts," Pinder said.
"We both trained hard and this is a way for the country to recognise what we did at the championships. I really appreciate that they understand what we go through every day to get to that position."
Pinder, a native of Grand Bahama and a recent graduate of Texas A&M, clocked a season's best (SB) of 45.34 seconds for the silver, while Brown - native of Eleuthera and the defending champion - took the bronze in 45.90, an SB as well as they trailed Costa Rica's Nery Brenes, who established a championship record as he won the gold in 45.11.
Looking back at the performance on March 10, Pinder said they both wanted to win the race or at least win a medal.
"We both made history with two Bahamians being in the final," he said. "But we wanted to make it even bigger by us two getting a medal. So we both went at it. We both knew what we had to do. It was a friendly rivalry, but we knew that we were there for a mission. We were proud to go out there an achieve the two medals for the Bahamas."
As fate would have it, the medals were the only two won by the Bahamas' nine-member team at the championships. The Bahamas ended up tied with Belarus and Turkey for 16th place on the medal chart and tied for 14th with Italy on the Placing Table.
With the World Indoors behind them now, Pinder said the focus now switches to outdoors and the 2012 London Olympics in August.
"This sets up because we can be considered medal contenders for the Olympics," Pinder said. "I know there were a lot of guys who were not there and are capable of medalling at the Olympics. But it's still good to have that mental edge over everybody."
Pinder is scheduled to begin his trek towards London in about two weeks when he opens up in the 200 at US meet. He is preparing to host his first Chris Brown Bahamas Invitational in the Grand Bahama Sports Complex on April 14.