By LAMECH JOHNSON
Tribune Staff Reporter
ljohnson@tribunemedia.net
STRONG winds and rain from a pressure system in the last few days caused power cuts in the Family Islands while delaying work for a number of residents and businesses, and closing schools throughout the islands yesterday.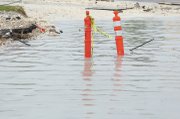 The Tribune had received reports that some family islands were without power because of the weather conditions.
Arnette Ingraham, media relations officer at the Bahamas Electricity Corporation confirmed this yesterday afternoon.
"We had some issues in the family islands which were typically the power outages due to the inclement weather."
"The outages were mostly in North Eleuthera and Abaco more than any island but we have not had any reports of outages in New Providence."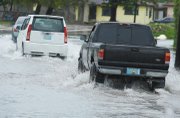 Mrs Ingraham said that though there were power cuts in the out islands, "they weren't out for very long."
Back in the capital, technicians at the Bahamas Telecommunications Company were unable to do most of its routine field work.
Patricia Dean of the technicians at the company, said that while they were able to do in-office work, the weather "hampered our productivity."
"It hampered the work for technicians as they can't get to some of the main phone lines that need work or even install new ones."
She said they would continue to watch the weather and deal with the situation as the weather allows because "we have a lot of customers that we can't leave hanging, so we'll get it done."
Various public and some private schools, who were closed because of the system that brought with it, heavy rains and winds since last Saturday.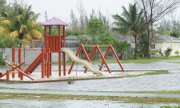 However, minister of education Desmond Bannister confirmed that schools would be able to resume as normal today.
"In some areas, there was flooding that raised concern for the children's safety. However, I think we achieved our objective in accessing the concerns so I anticipate that all schools will be open."
The Court of Appeal and Supreme Court were forced to postpone its proceedings yesterday. It also interrupted work on the New Providence Road Improvement project.
There were also reports that the weather had affected the various Royal Bank of Canada branches and their ATM machines.
Jan Knowles, regional manager in charge of press relations, denied those claims.
"All of our branches were open to the public today as the weather didn't affect us. No flooding or water issues. As far as I know, our ATM's are fully functional."
She said if they were down, "it would certainly not be due to the weather."
Cable Bahamas, in a statement, wished to inform its customers that although weather conditions may "in some instances, cause work assignments to take a little longer to complete", they would continue to bring customers "the best possible service" during this period of unexpected extreme weather conditions.
Dr Keith Wisdom said they are taking a safety first approach regarding its staff "as has always been our practice in the past."
Basil Dean, a chief meteorologist and public relations official from the meteorology department, said people can expect the showers and thunderstorms to begin clearing up as early as this afternoon.
He said: "We're expecting it to linger through tonight and tomorrow morning and expect it to clear up by the afternoon, lifting some of the winds and rains."
At one point yesterday morning, the department's website had shut down because its Internet service had also gone down.
It came back up some time after 11.30am though the staff were unable to say why it had shut down.