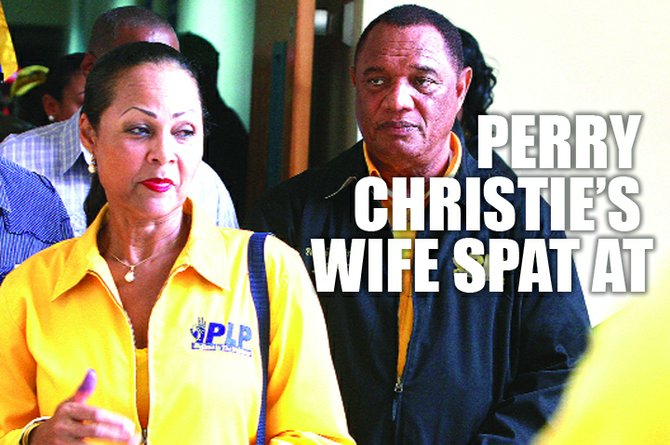 By AVA TURNQUEST
Tribune Staff Reporter
aturnquest@tribunemedia.net
POLITICIANS have renewed calls for civil and orderly behaviour during elections after a supporter spit at the wife of a party leader.
Progressive Liberal Party leader Perry Christie and his wife faced angry jeers from opposition supporters when they arrived at the advance poll yesterday.
Mr Christie said the couple were bombarded with vulgar and provocative insults as they pulled up to the entrance of the College of The Bahamas' hotel training institute. The culprits reportedly called Mr Christie a "sissy" and shouted at his wife to return to the United States.
Mr Christie's wife, Bernadette Christie, was reportedly spit at by an elderly man in a Free National Movement shirt who approached the car.
"There was somebody out there in a lacefront weave, she was just spewing venom at me," Mrs Christie added.
"We're beyond this, I don't know why people get so worked up. It's just a political process, you vote for who you prefer, give me the opportunity to vote for who I prefer."
She added: "I told her it's all love, I love you, and that's how I deal with it."
Mr Christie said: "Anyone who knows me, knows I ain't no sissy. The point is that kind of talk is just so vulgar, unacceptable and inflammatory because you see on the other side were PLPs and when they heard that we had to calm them down and so that is what is wrong."
"We have to be very careful about moving forward all political leaders must ensure that our supporters know that the leaders want them to act responsibly, conduct themselves responsibly and remove themselves away from provocative situations, that's what we have to do to ensure that this democracy reigns supreme."
Yesterday, FNM chairman Carl Bethel condemned the act as unacceptable regardless of the tense political climate.
Mr Bethel: "We are in a tense situation and sometimes people say things, but to spit, to seek to touch, to seek to hurt, or harm anybody is absolutely unacceptable conduct."
Last night, Prime Minister Hubert Ingraham condemned the person who assaulted Mrs Christie.
Speaking to members of the press at the airport in Central Andros, Mr Ingraham said: "I condemn the action of anyone who would have spat on his wife.
"I don't think that anyone should call him names either. "
Mr Ingraham added that he takes no offence to verbal abuse from PLP supporters.
"When I went to the polls this morning, PLP supporters were there saying 'Hubert gat to go, Hubert gat to go'."
"I stopped the car, smiled at them, waved, to them and moved on. No big deal."